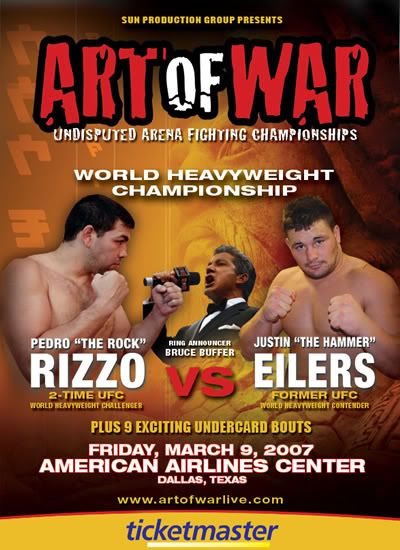 Following a near 13-month layoff, Brazlian heavyweight Pedro Rizzo (15-7) returned to active duty tonight at the Undisputed Arena Fighting Championships "Art of War" in Dallas, Texas, besting Team Extreme heavyweight Justin Eilers (16-6-1) in three rounds via decision.

14-time UFC veteran Rizzo is rebounding from a devastating KO knockout at the hands of Russian Red Devil Roman Zentsov at Feb. 2006's PRIDE 31.

Former football player Eilers had entered tonight's event at the American Airlines Arena on a seven-fight winning streak.

I found these results posted by a quality member on the Underground forum. So...they are VERY unofficial. I will update this post once the results are officialy released.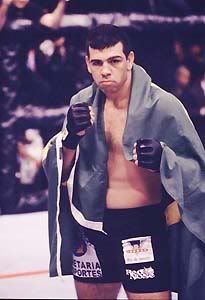 Just got back from the show... here are the results to the best of my recollection:

Rizzo def. Eilers by unanimous decision

Prater def. Lapsley by unanimous decision

Andrade def. Akesson by TKO in Rd. 2

Inoue def. Maxwell by unanimous decision

Stelly def. Sheppard by TKO in Rd. 1

Schambari def. Christian Smith by submission in Rd. 1

Njokuani def. Rosfort by TKO in Rd. 1

Wren def. Howard by TKO in Rd. 2 or 3 (I can't remember)

Neilson def. Valadez by TKO in Rd. 3

East def. Russel by I can't remember

It was a pretty good fight - Eilers was bleeding like a faucet by the third round (from the nose) and was knocked down in the first, when it looked like he was gonna get TKO'd. To his credit he kept on fighting until the final bell.

Also, Rizzo broke his left hand late in the first or early in the second, which affected his game.

By: Robopimp
(Source)