By David Finger

For a fight that some experts have already billed as "the biggest fight ever for Mexico," there was no question that both Juan Manuel Marquez (46-3-1, 35 KO's) and Marco Antonio Barrera (63-4, 42 KO's) were living up to the billing of "Fearless" as both fighters held a press conference in Los Angeles yesterday before heading out to Nevada. Both Marquez and Barrera appeared to be the picture of confidence as they joked with the press and promised victory. But both fighters also were keenly aware of what this fight meant to their respective legacies and both promised not only a victory, but a war.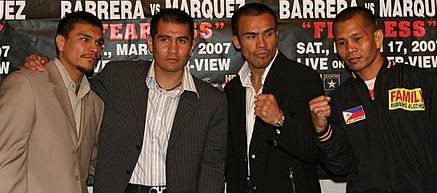 "I am very excited, this is a fight that I was supposed to have a long time ago," commented Marquez through a translator, "It's happening now, they gave me the opportunity and I want to take advantage of that."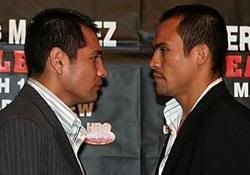 For a fighter whose been fighting since 1993, Saturday is a rare opportunity for Marquez to not just establish himself as a superstar in the sport (many argue that he already established himself as a star when he held Manny Pacquiao to a draw back in 2004) but to quite possibly establish himself as the premiere Mexican fighter in the world.

"I'm in pretty good shape…I am just ready to make history this Saturday night."

But getting through Barrera has never proven to be an easy task, especially when he is defending his mythical title as Mexico's "great champion."

"To me it is an honor to give the public a fight of this nature," commented Barrera, "It is very important to me for fans to remember me as a fighter who was fighting the top fighters and giving them the top fights. I don't want to be remembered as a fighter who fought fighters of poor quality."




Barrera and Marquez both are seasoned veterans with a history of fighting against the odds. Both know what it's like to loose a questionable decision and both know what it feels like to be on the wrong side of boxing politics. It is that shared history that has made this fight so unlikely and so intriguing today.

"I really don't' want to think about the past," admitted Marquez, "Now it is a great opportunity and I want to take advantage of it." But almost apologetically Marquez then added "I do think about 2005 though. It was an experience…that was a fight that surprised me that the sport of boxing and the business of boxing that one promoter with the blink of an eye can take your belts without a fight. But there is a saying in Mexico, what doesn't kill you makes you stronger, and I am feeling stronger now, physically, mentally, emotionally."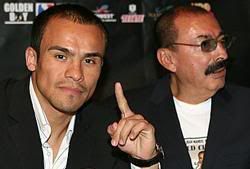 Even Barrera, the fighter who has seen it all in his career, admitted that this was a fight that he did not anticipate ever happening. Admittedly the name Manny Pacquiao has been on his mind ever since getting stopped by the Filipino superstar back in 2003; and although the fight never seemed to be close to happening, many insiders were excited that 2007 would see the eagerly anticipated rematch finally happen. But when politics axed the rematch, Barrera found himself in with a more than adequate replacement in Marquez. "He's a very good fighter of top level," commented Barrera, "But it was never mentioned to me before, the fight was never offered to me before, most likely because we both did fight under the Forum. We started putting attention to Juan Manuel when the fight was signed."

With Marquez's draw with Pacquiao in mind, Barrera felt that this could be the fight that not only positions him for the rematch, but also could erase the stigma of the Pacquiao loss. That fact, coupled with Marquez's heart, has Barrera even admitting that, as a fighter, he is a fan of Marquez. "I loved that fight (between Marquez and Pacquiao), I was cheering that fight. It showed us what a Mexican fighter is made to do. To go down but also to get right back up and keep fighting."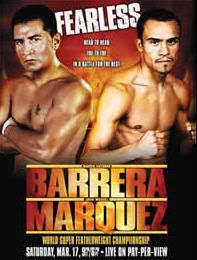 Marquez credited his promoter, Oscar De La Hoya, for giving his this golden opportunity, and again promised to capitalize on it. "I told Oscar before I signed with him and he promised me great fights, he promised me a fight with Barrera. He said he wanted to do the impossible to make it happen, and he delivered pretty fast. He's a great promoter; I wish all the promoters were like that. He promised me great fights and he delivered."

In the end, however, Marquez understood that, despite all his accomplishments in the ring, that he would be the challenger on Saturday night. "There are no easy fights at all. You got to take every fight seriously, I think Barrera is not thinking about losing, but me either, I am very happy and I'd like to that Barrera for taking the fight and making it happen."