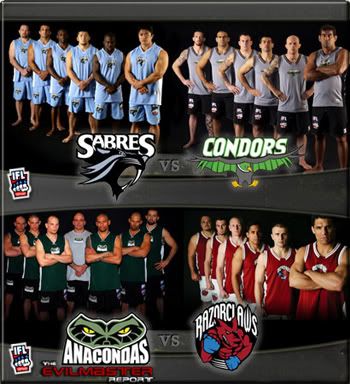 By Ben Fowlkes

In less than a week the International Fight League will make its Southern California debut at the Forum, as four top teams clash for IFL supremacy. As we get closer to fight time, we'll be taking a look at each match-up in detail, leading up to a live web play-by-play direct from ringside on fight night.

Saturday's event promises to be an exciting one, as the unbeaten So. Cal. Condors take on the reformed Sabres, who have bounced back from a winless 2006 to go 1-0 so far this season.

Whoever wins this team contest will enter their final match of the year on a 2-0 streak with an excellent chance of making the playoffs. The loser will have to claw their way back to the top, and hope it's not too little too late.

155 lbs: Savant Young (Sabres) vs. Adam Lynn (Condors)

Savant Young brings a formidable combination of striking prowess and powerful wrestling skills, and he used both to dominate Ed West in his last outing. At 5'6" his height is his greatest disadvantage, but that didn't stop him from getting inside against the much taller West.

Adam Lynn is a gritty fighter who wins fights mainly by sheer persistence and aggressiveness. He was the victim of an early stoppage against Adam Lynn in his IFL debut, and is looking to rebound here and show the fans what he can do.

If Young can force Lynn to play his game, as he did with West, he can control the action comfortably. But if Lynn manages to force a quick pace, anything could happen.

170 lbs.: Antonio McKee (Sabres) vs. Rodrigo Ruas (Condors)

Antonio McKee is a veteran fighter with the reputation of being a little overly cautious in some of his bouts. He can frustrate more aggressive fighters by staying just out of range until he's ready to secure a takedown and work his very methodical ground game, as he did against Gabe Rivas in Houston.

Rodrigo Ruas, nephew of Condors coach Marco Ruas, is making his IFL debut after an eye injury kept him off the roster in January. Not much is known about the young Ruas, but word is he throws some heavy leather and has no quit at all in him, which shouldn't surprise anyone who has seen his uncle in action.

Ruas needs to avoid getting too aggressive, and should try to back McKee down before unleashing his attack. McKee will likely look for the takedown early and often to avoid engaging Ruas in a stand-up war.

185 lbs: Kaz Hamanaka (Sabres) vs. Jeremy Williams (Condors)

Hamanaka was the only Sabres fighter to survive coach Ken Yasuda's roster purge after last season's poor performance, so Yasuda must have seen something worth cultivating in the Japanese middleweight. He's fought on some big stages in Japan, and in some big weight classes, which means he'll probably have a strength advantage at 185 pounds.

Williams returned to professional fighting after a nearly five-year layoff, and promptly choked out the Tiger Sharks Bristol Marunde in a dominating first-round win. Williams' jiu-jitsu is slick, to say the least, but we have yet to see if he's lost any speed in his stand-up game.

If Hamanaka tries to out-muscle Williams, he may bull himself right into a submission. His best bet is to force Williams to go on the attack, but don't look for "The Spider" to make any stupid mistakes.

205 lbs.: Vladimir Matyushenko (Sabres) vs. Justin Levens (Condors)

Vladdy Matyushenko is the light heavyweight addition that has the rest of the league talking. A national wrestling champion and former UFC heavyweight, he brings a relentless ground attack and a ton of experience. He dispatched the Scorpions Duane Compton in under two minutes, and it wasn't even as close as the time suggests. Many are expecting him to dominate the 205-pound class in the IFL, and for good reason.

Levens watched Matyushenko on TV as a teenager, and now has the daunting task of facing him the ring. The game plan for Levens has always been to charge in throwing big bombs, but he says he learned from his decision loss to Reese Andy that blind aggression is a liability against a strong wrestler.

Look for Levens to try and maintain some distance, forcing Matyushenko to stand with him. Matyushenko should look to get the fight on the mat soon, otherwise he risks getting caught with one of Levens' big right hands.

265 lbs.: Wayne Cole (Sabres) vs. Antoine Jaoude (Condors)

Cole is the Sabres newest member, and he looks to be an improvement over John Marsh. Cole was an All-American wrestler at Oklahoma in the early nineties, but says he'd rather stand and strike, putting his powerful punches to work for him. He plans to use his wrestling background mostly for takedown defense, and he'll probably need it in this one.

Jaoude represented Brazil as a Freestyle wrestler in the Athens Olympic Games, and he medaled in the Pan Am Games only recently. In his IFL debut he showed a formidable ground-and-pound, but got caught with a number of stiff shots on the feet, and looked gassed in the later rounds.

Jaoude needs to get Cole on his back, and fast. If he absorbs too much punishment coming in it will only build Cole's confidence, and we haven't seen much of a submissions game from Jaoude just yet. He needs to grind out a victory, which won't happen if he can't control the former-Sooner stand-out.

That's all for this team match-up. Check back later in the week for a preview of the Anacondas versus the Razorclaws.