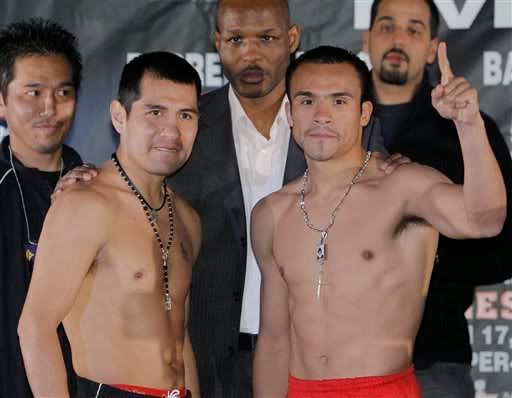 LAS VEGAS (AP) -- Marco Antonio Barrera and Juan Manuel Marquez grew up in neighboring towns in Mexico. (Photos by FUnews.net Craig Wynn)

Now the 33-year-old world champions are finally going to meet in the ring. Barrera and Marquez will fight Saturday night for Barrera's WBC 130-pound belt.

Barrera (63-4, 42 KOs) weighed in at 130 pounds, and Marquez (46-3-1, 35 KOs) at 129 on Friday. Marquez, who was a champion at 126 pounds, did not seem worried about being lighter than Barrera.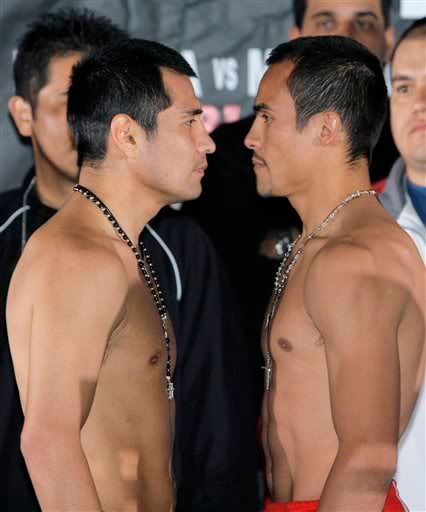 "I'm going to be very strong," Marquez said. "I'm very concentrated on this fight and ready to win.

"If Barrera wants to box, I will box him. If Barrera wants to exchange, I will exchange. Whatever he brings to the table, I will do it."

A boisterous crowd chanted Marquez's name as the fighters posed for pictures on a stage at the Mandalay Bay.

"This is great for me," Marquez said through a translator. "I see my people backing me up. I'm ready to go the 12 rounds or whatever."

Barrera had little to say after the weigh-in.

"I'm ready to go," Barrera said through a translator.

As Mexican stars, the two fighters have shown great respect for each other. But earlier the week, Marquez predicted that he would knock Barrera out.

Barrera's reply?

"A lot of people dream of knocking out Barrera," Barrera said. "That's all it is -- a dream."

Barrera is winding down a decorated 18-year career, but he clearly isn't coasting into retirement.

Both fighters hope to parlay a victory into a big-money fight with Manny Pacquiao, the Filipino world champion

Pacquiao stopped Barrera in 2003. Six months later, Marquez fought Pacquiao to a draw in a memorable bout.

Marquez is also looking to gain the acclaim he feels he has been denied.

"This will be the start of getting all the fights I should be getting," Marquez said.

Bernard Hopkins and Shane Mosley attended the weigh-in and predicted a close fight.

"I call them the big little men," said Hopkins, whose nephew, Demetrius Hopkins of Philadelphia, is on the card.

(Source)