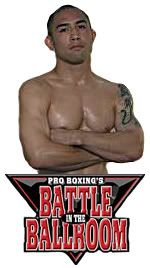 America's First Mixed Martial Arts and Boxing Doubleheader Announced Its Two Battle In The Ballrooms And Orange County Has It!

It will be a first for fight fans in Southern California, whether you are into boxing or mixed martial arts, as promoter Roy Englebrecht announces his first ever Battle In The Ballroom doubleheader, Sunday and Monday nights, April 1st and 2nd, at the Irvine Marriott Hotel. And if that wasn't enough, it will also be the Orange County debut of Mixed Martial Arts in a modified 24'x24' boxing ring, not a cage.

"I am excited to offer both boxing and MMA fans a chance to see two great evenings of fight excitement in one great location," said Englebrecht. "Boxing fans already know the thrill of the Battle In The Ballroom shows at the Irvine Marriott, and now MMA fans can see for themselves why we have sold out the last 13 shows. And to insure a great MMA debut, I have hired top MMA trainer, Colin Oyama who is also one of the founders of No Limits Gym in Irvine, as the show's matchmaker, and he has a great card lined up."

Headlining the 5pm show on Sunday, April 1st will be Team Oyama's two time Jiu-Jitsu champion and undefeated 5-0 Givanildo Santana (Pictures), fighting out of No Limits Gym, and who will face 3-1 Virgil Lozano from Chula Vista, in a cruiserweight bout. And in the second featured bout, another No Limits star, 8-8 Bao Quach (Pictures) will square off against tough King of the Cage veteran Shad Smith (Pictures), who is 8-6.. Quach is in line for a PANCRASE World Title fight if he gets by Smith.

The seven bout card will also feature two heavyweight bouts, as 6-3, 265 pound David Mejia out of Riverside and trained by Tony Gonzales, takes his 2-0 record into the ring against Tough Man monster Muhannad "The Phoenix" Barazi. Barazi is 8-2 in Tough Man fights and 1-1 in MMA, and all Barazi has done is knockout his last six opponents. Anaheim heavyweight Illiums "Ewee" Goglia, who is trained by King of the Cage veteran John DeLao faces Team Camacho's Carlos Fuentes who is making his pro debut.

Then just 24 hours later, the longest running boxing series in history, the Battle In The Ballroom again will set the ballroom rocking, with the return of Tustin's Paul Velarde and Hector Serrano, and the pro debut of heavyweight Tony Sanchez and Christy Schwartz.

Velarde, a top amateur is 1-1, and coming off a Marriott victory last October. Serrano, another top amateur out of Huntington Park is looking to go 2-0, but will be tested by 1-1 Vallejo star Dario Castillo. Sanchez, a former Marine and now an elementary school teacher in the Moreno Valley will face San Diego's 1-1 Anthony Mooney, and Schwartz a former kickboxing champion faces another pro debuter in Liz Quevedo.

This first ever Battle In The Ballroom doubleheader is also being held in conjunction with the third session of Fight Promoter University. FPU III, also founded by Roy Englebrecht, has been expanded from three days to a full five days, and will give students a chance to set up and work two fight shows, both MMA and Boxing. For more information of FPU III, go to www.fightpromoteruniversity.com.

Tickets for both the Sunday, April 1st Battle In The Ballroom MMA Show, and the Monday, April 2nd Battle In The Ballroom Boxing Show, can be purchased online at www.battleintheballroom.com.