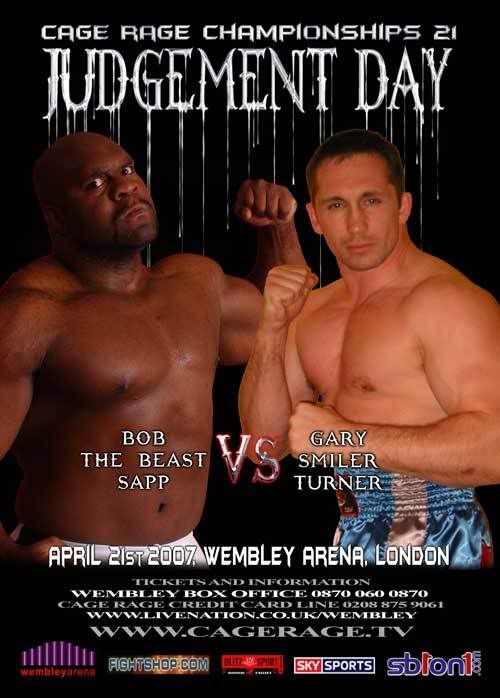 By James Bruman & Stash Capar

Cage Rage promoters Dave O'Donnell and Andy Geer have released an updated and finalized card for Cage Rage 21: Judgement Day, scheduled for April 21st at the Wembley Arena in London. The event will go head-to-head with UFC 70 – which takes place a three-hour train ride away in Manchester, England - and will feature the following bouts:

Bob Sapp vs. Gary "Smiler" Turner
Vitor Belfort vs. Ivan Serati
Evangelista "Cyborg" Santos vs. James Zikic
Daijiro Matsui vs. Mark Weir
Murilo "Ninja" Rua vs. Alex Reid
Roman Webbet vs. Mark Epstein
Paul Daley vs. Paul Kelly
Abdul Mohammed vs. Ross Pointon
Cyrille Diabate vs. Ryan Robinson
Alex Owen vs. Brad Pickett
Xavier Foupa Pokam vs. Tom Watson
James Nicoli vs. Matt Ewin

Gary "Smiler" Turner (1-0-1) has been brought in to fight Bob Sapp (8-2-1) after Sapp's original opponent, Robert "Buzz" Berry, announced his retirement from the sport last week. Turner seems to be a surprising choice to face the American behemoth and former K-1 star, but his record belies a depth of martial arts experience including judo, jiu-jitsu and, perhaps most importantly, his twice turns as a British K-1 champion. Considering the amount of Cage Rage heavyweight regulars apparently vying for a chance to fight Sapp, Turner is an interesting pick and could put himself right in the Cage Rage heavyweight mix with a win.

In a surprise move, Ultimate Warrior Challenge veteran Ivan Serati (5-0-0) was brought on board to fight the legendary Vitor "The Phenom" Belfort (14-8-0) in the co-main event, destroying any chances of seeing the long-awaited Vitor Belfort vs. Evangelista "Cyborg" Santos (15-9-0) match-up.

Also, an opponent has finally been found for middleweight Abdul Mohammed (12-4-2), who will go up a weight class to fight none other than "The Ultimate Fighter" season three competitor, Ross "The Gladiator" Pointon (4-8-0), well-known for his weightcutting antics and brawler attitude.

Tom Watson (3-1-0), who had his Cage Rage debut in Feb. losing by submission to Japanese fighter Daijiro Matsui (9-16-4), was also added to the card. He will tilt with the tough Frenchman Xavier Foupa Pokam, (6-6-0), of Snake Team.

Cage Rage has also announced the dates of four future events. Cage Rage 22 "Hard as Hell" will take place on July 14, while Sept. 22 and Dec. 1 have been reserved Cage Rage's 23 and 24. The events will most likely continue to take place at the Wembley Arena in London.

Cage Rage "Contenders" - originally conceived as a feeder show for the main promotion - is having its first showing in Dublin on May 26. Already booked for the show is UFC and PRIDE Bushido veteran Chris "The Westside Strangler" Brennan (18-11-1), who is taking a tough match with French gamer Samy Schiavo (7-4). Heavy-handed Ian "M-16" Butlin (6-5) has been matched up against Irish grappler Thomas Maguire (2-0) in a classic styles match-up. More matches are to be announced shortly.