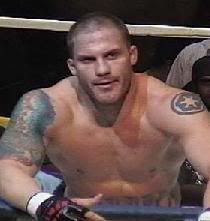 By Pelagia Garcia

On Saturday, March 24th, 2007, live from the Joint in the Hard Rock Hotel and Casino in Las Vegas, Nevada, World Extreme Cagefighting will hold their second event under the Zuffa banner. If the organization is looking for a star or a fighter the people can associate with the WEC, then Erik Apple might just be their man. Undefeated at 9-0, Apple possesses the athleticism along with the microphone skills and charisma a fighter needs to have to lead a company.

You see, Apple is a legit fighter and he also has a career in television. However, there is one problem -- he needs to get by UFC veteran Brock Larson on the 24th. Larson will definitely be Apple's biggest test and we'll see if he is better suited for announcing or fighting. Here is what Apple told ADCC News.

ADCC: Before we talk about your immediate future, tell us how you got started in mixed-martial-arts?
ERIK: I grew up in South Orange County. So naturally, I skateboarded, surfed, and body-boarded. Then I went to BMX bikes. I actually got paid to ride bikes and body-board at one point. Then I had a very serious injury riding bikes and some unfortunate circumstances with the injury. I was unable to ride bikes anymore. So after a year and half of therapy I decided to check out Ruas Vale Tudo where many of my friends trained.

ADCC: Besides fighting, you also have done some television work. What have you done in TV and would you rather be in the cage or talking about into a camera?
ERIK: TV and announcing is my career. Its where the majority of my income is generated. I have hosted shows on CBS, NBC, ABC, Fuel Network, ESPN, and on pay-per-view. I host core sport shows like freestyle motocross, supercross, BMX, and so on. TV is way easier for me than fighting. Plus I don't need to train three times a day to talk on camera.

ADCC: You definitely have a great training camp with fighters like Renato "Babalu" Sobral and UFC veteran Justin Levens. What is it like training with those guys everyday and who are some other fighters that come up to the Ruas Vale Tudo gym to work out?
ERIK: Justin and I sort of came into this sport together and learned on the job. He is a great training partner for me, except he is a little bigger than me. He is a tough guy and well rounded though and we have been in each others corners a lot. Justin still trains with Marco a lot these days with the IFL team, however, I have been training elsewhere. And as far Babalu, he is a top five light-heavyweight, so he is always great to have on your side. He and I are very close and he actually lives with me a lot of the time.

ADCC: So far your undefeated in mma holding a 9-0 record. How important is it for you to remain and undefeated and what was your toughest fight thus far?
ERIK: Of course its important to stay undefeated. Not because I care about being able to say that, but because I don't ever want to lose. I train really hard. Three times a day, six days a week, for over two months straight. I don't plan on working this hard for a loss. I just believe that if I'm in the gym five or six hours a day, that most fighters cant keep up with that. My toughest fight so far was with Danny Wren. (Before the fight) I hadn't seen any tape on him and I had no idea what he was going to do. Then I had a laceration on my shin all the way to the bone from a kick in the first round. So I had to forget the whole idea of standing up and take him down the whole fight. Luckily my leg didn't bleed to much and I was able to finish the fight.

ADCC: Later this month, you will be fighting in Vegas in your biggest show. How excited are you to be fighting for the World Extreme Cage fighting (WEC) and what can fans expect from you that have never seen you fight?
ERIK: I am excited to fight for the WEC. I am also stoked to fight at the Hard Rock Hotel. That place is my home away from home. But I don't really think about that stuff very much. I just concentrate on training.

ADCC: The WEC was recently purchased by the Zuffa who owns the UFC. Is that your goal to have a good start in the WEC to eventually fight in the UFC?
ERIK: If I get to asked to the UFC, then great. But I'm just looking to fight, get better, and be competitive in this sport. But it is nice to be affiliated with Zuffa and just fighting for them brings a lot to the table.

ADCC: Talk about your opponent, UFC veteran Brock Larson. What can a victory over him do for your career?
ERIK: Brock Larson is a physically strong fighter and a great wrestler. I have watched several of his fights and even talked to some of his last opponents. He is very good at what he does. He has a great record and a win over him is obviously huge. He is a huge step up for me, that's for sure. But I need to see where I stand. I am big for a welterweight and most people say I am really strong for my weight. Plus I am taller than him. With all that considered, I'd say that I like the match up physically. I don't feel like I have anything to lose. The pressure is on him in my opinion.

ADCC: In a perfect night for you, what happens on March 24, 2007? ERIK: Well, I have won fights on the ground and standing up. So I think there are a lot more ways that I can win this fight then he can. I know he has only lost once and that was a decision, so I am not going to disrespect him with a prediction of how I'm going to win.

ADCC: Well thanks for your time Erik and good luck on the 24th. Do you have anything to say to your fans or sponsors?
ERIK: Support the companies that support the sport! Check out MetalMulisha.com, Hitmanfightgear.com, Giantto.com, Rockstar69.com, and Oakley.com.