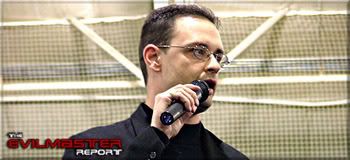 By E.Goldman

Stylish mixed martial arts force BodogFight is adding to its highly regarded team of MMA professionals. Today, the show announced it has secured the services of Jeff Osborne as BodogFight Commissioner.

Since founding Hook and Shoot in 1996, Osborne has become a recognized personality within the MMA community for his commentary work with various fight promotions. He has also spearheaded the effort to integrate women into the mixed martial arts scene - a strong credit to his name as BodogFight is quickly acquiring contracts for many of the world's top female combatants.

'We've been pleased with the contribution Jeff has made to BodogFight as a member of our commentary team, and we expect the experience and knowledge he possesses will serve him well in his new role as Commissioner,' said BodogFight creator and Founder of Bodog Entertainment, Calvin Ayre.

As Commissioner, Osborne will ensure the rules, regulations and medical requirements set by State Athletic Commissions are adhered to - a challenge he is clearly excited about.

'I am thrilled to be taking on this new role, and I want to thank BodogFight for giving me this opportunity,' Osborne said. 'We are definitely on the same page in that we share a genuine concern for fighter safety and a commitment to upholding the highest standards.'

Fans can still enjoy Osborne's expert commentary each week on the hit TV series BodogFight: St. Petersburg, airing Tuesdays and Saturdays at 11 p.m. / 10 p.m. Central on ION Television, and on the award-winning web site www.BodogFight.com.

About Bodog.TV
Bodog.TV is a division of the international digital entertainment giant Bodog Entertainment. With six offices worldwide, the company features a diverse and growing roster of television shows. These include BodogFight (www.BodogFight.com), a mixed martial arts show; Bodog Battle of the Bands (www.BodogBattleoftheBands.com), a contest for a million dollar recording contract; and Calvin Ayre Wild Card Poker (Bodog.TV), a poker lifestyle reality show. Bodog Entertainment Founder Calvin Ayre, who is recognized as a world authority on branding in the digital entertainment industry, was featured on the cover of Forbes magazine's best-selling 'Billionaires' issue in March 2006. BODOG is a registered trademark of Bodog Entertainment Group.