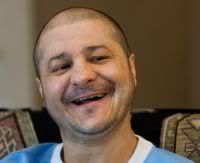 ALBUQUERQUE, N.M. -- Five-time world champion boxer Johnny Tapia was released from the hospital after a three-day stay that began with an apparent cocaine overdose. Tapia was upgraded from serious to fair condition Wednesday at Presbyterian Hospital and released later in the day.

t has been a tragic week for the Tapia family. After Tapia was hospitalized, two relatives on their way to visit the ailing boxer were killed in a car crash.

State police said Tapia's brother-in-law, 39-year-old Robert Gutierrez, was killed along with his nephew, 23-year-old Ben Garcia, before dawn Tuesday when their car went off a highway south of Bloomfield and rolled, ejecting both men.

State police were investigating whether alcohol was a factor. Investigators found empty bottles and partially consumed bottles at the scene.

Teresa Tapia was worried about telling her husband about the crash.

"We're just trying to get him strong enough ... so we can let him know about this other tragedy," she said.

Johnny Tapia, who turned 40 last month, was taken Monday to the hospital after paramedics responded to an early morning call about someone who wasn't breathing at a hotel room.

Albuquerque police said it appeared to be an overdose and Tapia would be charged with possession of a controlled substance. Police had discovered a plastic bag containing cocaine.

Tapia has a history of cocaine use and run-ins with the law.

The latest episode came some two weeks after he won a majority decision over Evaristo Primero of El Paso, Texas. Tapia, whose record is 56-5-2, billed that fight as his farewell to the ring.

Tapia won five titles in three weight classes, including the WBA bantamweight title, the IBF and WBO junior bantamweight titles and the IBF featherweight belt.