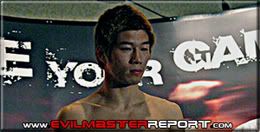 Antonio Carvalho informed FCF this week that the Shah Franco fighter will take on Hatsu Hioki (12-1-1) at the May 18th, Shooto "Back To Our Roots 3" event in Tokyo, Japan. Carvalho (9-2), who recently relocated to Japan to live and train, will be returning to action for the first time since last May, when he injured his knee in a TKO loss to "Lion" Takeshi Inoue. Carvalho had previously defeated Takeshi in 2005 by majority decision, before failing in his bid against the current 143 lb. Shooto champ last year.

Carvalho's only other career loss was to Jeff Curran at Ironheart 9 in November of 2005, a fighter Hioki defeated by decision in his Pride debut at Bushido 12 last August. Perhaps Carvalho's most notable victory was last February, when the Brazilian Jiu Jitsu Black belt stopped the legendary Rumina Sato in the second round with strikes.

Carvalho will have no "warm up" fights for his return to competition, as in Hioki, he is facing a fighter who many consider to be one of the world's better bantamweights. (143-145lbs.) Most recently, Hioki defeated Mark Hominick by majority decision at TKO 28 in February, to defend his TKO Featherweight Championship. In his first encounter with the highly regarded Team Tompkins fighter at TKO 25 in May 2005, Hioki relied on his ground skills to win the TKO belt, knocking out Hominick in the second round with a triangle choke.

In their most recent encounter however, the Japanese fighter surprised many, demonstrating a marked improvement in his stand up skills on route to his title defense. Hioki has not lost a fight since 2003, when he was defeated by Hiroyuki Takaya by unanimous decision. The winner of the Hioki, Carvalho fight will likely retain the number one contender status in Shooto's 65 kg division.