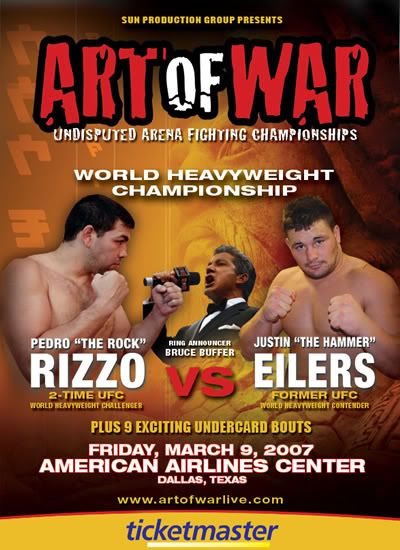 DALLAS, TX -- (MARKET WIRE) -- March 07, 2007 -- SUN Sports & Entertainment Inc. (PINKSHEETS: SSPE) www.sunorganization.com is a professional sports and entertainment marketing company that produces award-winning broadcast sporting events in boxing and Mixed Martial Arts (AKA "Cage FIGHTING"). SUN has officially entered the MMA Arena as a new player in (according to Newsweek Magazine) "the fastest growing sport in America."

SUN Chairman & CEO CJ Comu, stated, "I am delighted with the completion of this transaction and the future opportunities that are provided to us as a public company." Comu added, "The Mixed Martial Arts (MMA) industry is the fastest growing Sports Entertainment business in the world. We hope to be a large player in this small but rapidly growing space and deliver high quality entertainment to the networks and fans around the world."

Rounding out the management team is SUN President J. Buckeye Epstein who has over 25 years of a diverse background in sports, marketing and financial management including the past president of Major League Baseball Youth Marketing Program MLB "Pitch, Hit and Run." SUN CFO, Phil Miller, CPA, who initiated and executed two Initial Public Offerings (Micrografx and El Chico) and most recently acted as interim CFO for Immediatek Inc., which was acquired by Radical Holdings LP (owned by and HDnet and Dallas Mavericks' owner Mark Cuban). Lester Bedford, Boxing Consultant, who has produced more than 400 Professional Boxing events nationwide. Mr. Bedford has produced and managed Fights for Lou Duva, Don King, Bob Arum, Oscar De LaHoya and other networks.

Wholly owned, SUN Production Group, in association with International Fighters Association announced their premiere event for 2007 -- "ART OF WAR, Undisputed Arena Fighting Championship." The 10-bout fight card is set for March 9, 2007, at the American Airlines Center in Dallas, Texas, and will be televised in high definition by Mark Cuban's Company, HDNet. Aligning itself with the IFA and owning its event content, SUN's management team has been collectively involved in the production of over 100 professional boxing events nationwide, on networks such as NBC, CBS, ABC, USA, HBO, LATINO, SHOWTIME, FOX, & ESPN.

Brazilian Jiu Jitsu legend, Pedro "the Rock" Rizzo will take on American, Justin "The Hammer" Eilers, in the Main Event. Both Rizzo and Eilers are both veterans of the highly successful UFC (Ultimate Fighting Championship).

"It's going to be perhaps the biggest and most exciting MMA event in Texas history," said Comu. "We're anticipating a very large and enthusiastic crowd on March 9th!"

"MMA is becoming the fastest growing combat sport internationally" -- (Michael Russell, ezine.com) and has been eclipsing the NBA, NHL and MLB in cable ratings among the coveted 18-34-year-old market (NEWSWEEK MAGAZINE). The nationwide MMA market is estimated to be $1 billion with one primary player in the space, which is privately held and controlled by UFC.

World famous "Voice of MMA" announcer, Bruce Buffer, will serve as the Event's Master of Ceremonies and Ring Announcer. Because of the event being at Dallas' American Airlines Center, home of the Dallas Mavericks (NBA) and Dallas Stars (NHL), a number of local dignitaries and sports celebrities are expected to be in attendance, as well. Former UFC Champion, Guy Mezger, serves as an advisor and chief matchmaker for all SUN MMA events. Heading up event management and marketing will be Lester Bedford of The Bedford Agency. Bedford has marketed over 100 World Championship Boxing events over the past 20 years, including events televised on HBO, Showtime, NBC, ABC, CBS, ESPN, USA and other networks.

The emergence of Mixed Martial Arts fighting has become a worldwide story, including a featured segment on CBS' "60 Minutes" news magazine program and feature pieces throughout the newspaper and magazine industry. As stated by "60 Minutes," "MMA is the fastest growing sport in the country, appealing to the coveted demographic that advertisers have been losing steadily -- males ages 18 to 34."

"Don't look now, but mixed martial arts has gone mainstream," says Julie Scelfo of Newsweek. Grapplearts Writer Donald Walter states, "Mixed martial arts is the fastest growing sport in the United States as mixed martial arts events and training centers spring up all over the country. And the money the sport is making continues to grow at a nearly exponential rate!"

In its December 6, 2006 profile on Ultimate Fighting, USA Today writer Marco della Cava states, "Football and baseball may be American pastimes, but for a high-tech generation weaned on immediacy, such sporadic action doesn't compare with UFC's short and definitive flurries of violence."

About SUN:

SUN is a Professional Sports & Entertainment Marketing Company. SUN Production Group is a Certified Texas Combat Sports Promoter and produces World Class Boxing and Mixed Martial Arts. The properties of SUN (www.sunorganization.com), Art of War (www.artofwarlive.com) and International Fighters Association (www.ifapro.com) are pending trademarks.

Safe Harbor Statement

This release contains certain "forward-looking" statements, involving risks and uncertainties, which are covered by the safe harbor provisions of the Private Securities Litigation Reform Act of 1995, including statements regarding SUN Organization Inc. Such statements are based on management's current expectations and are subject to certain factors, risks and uncertainties that may cause actual results, events and performance to differ materially from those referred to or implied by such statements. In addition, actual or future results may differ materially from those anticipated depending on a variety of factors, including continued maintenance of favorable license arrangements, success of market research identifying new product opportunities, successful introduction of new products, continued product innovation, sales and earnings growth, ability to attract and retain key personnel, and general economic conditions affecting consumer spending, Readers are cautioned not to place undue reliance on these forward-looking statements, which speak only as of the date hereof. SUN Organization Inc. does not intend to update any of the forward-looking statements after the date of this release to conform these statements to actual results or to changes in its expectations, except as may be required by law.


CJ Comu
Chairman/CEO
SUN Sports & Entertainment Inc.
15851 Dallas Parkway, Suite 225
Addison, TX, 75001 USA
Tel: 972.392.1414 EXT 114
Fax: 972.392.1429
cj@sunorganization.com
www.sunorganization.com

SOURCE: SUN Sports & Entertainment Inc.