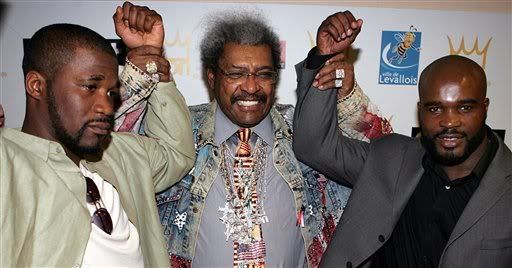 By Barnaby Chesterman

PARIS (AFP) - Don King rolled into Paris this week ahead of the cruiserweight world title rematch between undisputed champion O'Neil Bell and France's Jean-Marc Mormeck.

The flamboyant King's primary role is that of fight promoter but the man with electric hair had a surprise for everyone up his sleeve.

Aside from seemingly turning his hand to French politics during his stay in the French capital - King spent half the pre-fight press conference in Parisian suburb Levallois campaigning for Levallois mayor Patrick Balkony, who does not even have any elections coming up - the loud man of boxing was also keen to tell anyone within earshot about his next engagement.

After Saturday's eagerly-anticipated title fight, King will head off to the Vatican for a meeting with the Pope.

"Pope Benedict XVI is going to receive me and I'm going to ask him to say a prayer for this great man Patrick Balkony," gushed King, clearly pleased that Balkony had helped him bring the title fight to France.

Mormeck is King's main man for the fight and the promoter is convinced his charge will win back the titles he lost to Bell in their original meeting a year ago.

"I will be with Pope Benedict XVI to tell him about the great comeback (of Mormeck) that took place here and I'm going to present him with the WBC belt," added King, who was draped in sparkling silver jewellery.

After meeting with the Pope, an arrangement facilitated by the priest brother of a fighter King promotes, King will turn his attentions back to the jumbled heavyweight division.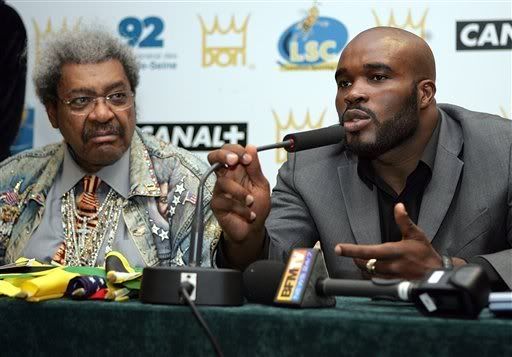 After briefly claiming that Mormeck will storm the division once he has dealt with Bell and swept up all before him at cruiserweight, King turned his focus to the actual reigning champion big men.

With four recognised world championship belts in each of the 17 professional boxing divisions, the sport can become somewhat confusing for the ordinary fan.

A few years ago, King tried to clear up matters in the middleweight division by staging a mini-competition between the four belt holders.

American Bernard Hopkins emerged as the undisputed middleweight king and a star was born. He has since lost his titles but his name still commands the utmost respect in the boxing fraternity.

Now King wants to put on a similar winner-takes-all competition in the heavyweight division.

"Absolutely! That's the only way to give the public something they can relate to and identify with," said King.

"They must be able to know who is the champion. Right now they're very confused and so am I."

The four current world champion heavyweights are Ukraine's Wladimir Klitschko, giant seven-feet tall Russian Nikolay Valuev, Kazakh-born Russian Oleg Maskaev and American Shannon Briggs.

It is generally accepted that the two outstanding fighters in the division are Klitschko and Valuev - whose recent performances have suggested he is more than a giant freak show.

King, who co-promotes Valuev, is desperate to get Klitschko into the ring with his man.

"He's on the list. I want Klitschko like a rare steak or roast beef. Nikolay Valuev told me yesterday: I want him Mr King, I want him. He has a great appetite and it's insatiable.

"Nikolay is a giant man with a giant heart. He's a great man and I love him. He protects women in the parking lot.

"He's the man who gets out there and knocks down men that are pushing women around or grabbing their pocket books."

That is one fight the world is waiting to see, but one that poses a minefield of contractual obstacles to overcome.

However, after meeting the Pope, hopefully King will come away from the Vatican with the kind of divine intervention needed to make Klitschko-Valuev become a reality.

(Source)