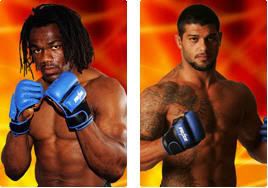 Joining the ranks of top Middleweight fighters after his victory over Antonio Rogerio Nogueira at PRIDE.33 "THE SECOND COMING" held on February 24th in Las Vegas, Sokoudjou "AFRICAN ASSASSIN" will next mount the ring in Japan. He will clash with top Middleweight contender Ricardo Arona on April 8th at PRIDE.34 "KAMIKAZE" at the Saitama Super Arena.In addition, Shinya Aoki and Makoto Takimoto will make these appearance at PRIDE.34 "KAMIKAZE."

SOKOUDJOU (Cameroon/Team Quest AFRICA)
VS
Ricardo Arona (Brazil/Brazilian Top Team)

Sokoudjou "AFRICAN ASSASSIN," who defeated Rogerio Nogeuira by KO in a mere 23 seconds, is coming to Japan for the first time!!As the shortest route to the Middleweight title, he will be fighting against Arona,

Arona is a top contender known to be the first middleweight fighter to have defeated Wanderlei "The Axe Murderer," and has also competed for the title.If Sokoudjou succeeds in "assassinating" Arona, he will largely redraw the current Middleweight power diagram.For the moment, it is unlikely that Sokoudjou will compete for the title since the current PRIDE MIDDLEWEIGHT CHAMPION is his teammate Dan Henderson. If, however, he ends up defeating Arona, he may join Mauricio "Shogun" Rua as a candidate for the next champion.

For Arona, it will be a fight to defend his status and to seek revenge for his teammate Rogerio, a member of Brazilan Top Team. Feelings of rivalry will all the more be heated up, as it will also be a jiujitsu vs judo fight. Will Sokoudjou devour another big prey, or will Arona teach him the bitter side of PRIDE?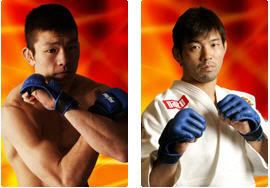 Shinya Aoki(Japan/Paraestra Tokyo)
VS
Brian Lo An Joe(Holland/Red Devil International)


With Takanori Gomi's defeat at February's Las Vegas event, the Lightweight division is looking chaotic. A bitter fight for survival towards the "PRIDE LIGHTWEIGHT GP 2007," scheduled to commence in mid to late May, has already begun. Currently collecting much heated fan support is one of the world top grappler Shinya Aoki, whose flamboyant and long yellow tights has become his trademark. Aoki has secured three consecutive wins at PRIDE with his prominent power. He is, in truth, a top-class grappler who Japan boasts to the world.

Challenging Aoki will be the brawler from Holland, Brian Lo An Joe. This man was released from prison merely 8 months ago. He returned to PRIDE last October, where he secured a TKO victory in the first round. Brian also won in the first round at 2H2H, an event held in November 2006 in cooperation with PRIDE. He was appraised for his exceptional performance and was chosen as Aoki's opponent. Given that Brian is a striker with a kickboxing background, a thrilling grappler vs striker match can be highly anticipated.


Makoto Takimoto(Japan/Yoshida Dojo)
VS
Zelg "Benkei" Galesic(Croatia/Team Trojan)

The long-awaited striker from England is finally coming to Japan! Zelg "Benkei" Galesic has been talked about amongst fans as a powerful fighter. His nickname originates from the fact that his policy is to "fight even if his dies" just like the Japanese historical hero Musashibou Benkei. In addition to winning the 2001 World Taekwondo Championships and 2002 European Championships at the 80kg weight division, he has had 32 matches in amateur boxing.

He is known as a powerful striker, because he possesses fast and vicious punches. Coming from a Taekwondo background, he also specializes in kicking techniques and has utilized his superhuman resilience to take down his opponents to the mat by backspin kicks, flying kicks, as well as knee kicks. Benkei is originally from Croatia, and is known in England as "Little Crocop." He is a member of Team Trojan along with James Thompson, who assures that "Benkei will become a superstar."

Standing up against Benkei will be Takimoto, who will return to the PRIDE ring for the first time in 10 months. Takimoto fought in June 2006 against Gegard Mousasi at the "PRIDE WELTERWEIGHT GP," but suffered a defeat and a fracture to the orbital floor. Although he has recovered from his injury, Benkei is a dangerous opponent since he is, like Mousasi, a striker and hard puncher. Will Takimoto succeed in taking Benkei down with his ground techniques, or will he fall in the face of Benkei's strikes as he did against Mousasi?

PRIDE