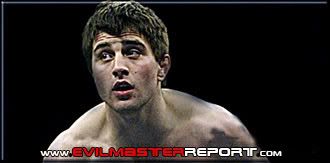 With the flood of talent - Diego Sanchez and Keith Jardine riding the crest pouring out of Greg Jackson's gym - the Duke City has virtually overnight earned a reputation as a hotbed for world class mixed-martial arts.

But another Albuquerque crew, this one out of the Fighters-in-Training/No-Holds-Barred gym, is fighting its way up the ladder.

Trained by Tom and Arlene Vaughn, cage fighters Ox Wheeler, Thomas Schulte, Jesse Isabel and Toby Johnson are hitting the road and filling the bill on regular "FightWorld" cards.

At the helm of this crew is Albuquerque welterweight Carlos Condit (19-4), who has earned his props on the road, fighting anywhere from Hawaii to Japan, on top-level Pancrase and other MMA circuits.

After four straight victories, Condit will get his biggest opportunity yet when he takes on John Alessio (18-10) for the vacant 170-pound World Extreme Cagefighting title Saturday night.

The Condit-Alessio bout is one of three co-feature title fights on a card at the Hard Rock Hotel & Casino in Las Vegas.

The WEC is not as well-known as the Ultimate Fighting Championships, but you can expect that to change. The organization was recently bought by Zuffa, the company that owns UFC - and they expect to go head-to-head with the better-known organization.

"I'm real excited about fighting for the WEC," says the 22-year-old Condit. "People are getting the wrong idea about them, that it's a farm league for the UFC, but we're out to compete with them."

The title fight will be Condit's second bout with the WEC, and first of a four-fight contractual deal. In January, Condit fought what was probably his last fight as an underdog when he took out Kyle Jensen (29-10-1) by a rear naked chokehold in 2 minutes, 10 seconds.

"I'm hungry for this," Condit says. "I don't like to rank myself until I beat someone, but I'd say I'm in the top 20 right now. If - when - I beat Alessio, I'd say I'm Top 10."

The welterweight division might be the toughest division in MMA, and most have UFC champion Georges St. Pierre as kingpin, followed by former champs Matt Hughes and B.J. Penn. The division also has a top contender in Albuquerque's Diego Sanchez, who along with the rest of Jackson's dynamic team, tends to put Condit and the FIT/NHB out of the local spotlight.

"I don't feel as if I'm in anyone's shadow," Condit says. "Anybody paying attention out there, knows we've made a statement."

Condit has not been given easy fights on the road.

"In MMA, there's no quick road," he says. "It's an uphill battle all the way but, win or lose, it's made me a better fighter."

Condit criticizes some of the "grooming" that has taken place with some of the local boxers.

"What's the point of getting easy fights?" he said. "It doesn't make you grow or improve."

Saturday night's tussle with Alessio is "another tough step up," Condit says.

"He's a seasoned veteran and an all-around solid fighter," Condit says. "I'll be there to take it to him, to knock him out, tap him out, beat him down - whatever opportunity arises."

A win and the WEC belt will be closer to Condit's reach at the top of the welterweight heap - with an intriguing possible showdown against Sanchez.

"If the situation happens, it happens," says Condit, who is a friend and former stablemate of Sanchez's.

"If our careers lead us to it. This is a business. But the game is big enough for the two of us. But one thing at a time - first Alessio, then whoever the WEC wants to put me up against next."