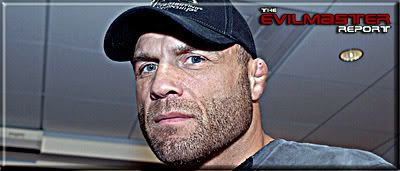 By Neil Davidson

COLUMBUS, Ohio (CP) - Brain beat brawn as Randy Couture turned back time Saturday night.

The 43-year-old Couture came out of retirement to comprehensively defeat heavyweight champion Tim Sylvia by unanimous decision at UFC 68: The Uprising, marking the fifth time he had won a title in the mixed martial arts organization.

It took guts and smarts to dispose of the six-foot-eight, 265-pound Sylvia, who came in 13 years younger, six inches taller and 40 pounds heavier than Couture.

Couture, more than a 3-1 underdog. won every round in a masterful five-round performance after a year away from the game.

"Not bad for an old man," Couture said in the ring after the fight.

Couture may be 43 but he has a body that men half his age would kill for. And on Saturday night, he had the game plan and inner will to beat the bigger man.

"There's just a few times in your career when things come together like that. This was an exceptional night for me," he said later.

It was also a big night for the UFC.

The Midwest opened its arms to MMA and the soldout show drew 19,049, the largest ever for a mixed martial arts event in North America. The gate of US$3 million-plus was tops for Nationwide Arena, beating the previous record held by the Rolling Stones.

Earlier, former champions Rich Franklin and Matt Hughes bounced back from title losses to post convincing wins.

Franklin battered Canadian middleweight Jason MacDonald en route to a TKO while Hughes outmuscled welterweight Chris Lytle for a unanimous decision.

MacDonald, a 31-year-old native of New Glasgow, N.S., who now calls Red Deer, Alta., home, was game but could not solve the takedown defence or raw power of the Cincinnati-based Franklin. His corner threw in the towel after two rounds.

"I think I hit him with pretty much everything but the kitchen sink on a couple of combinations and he just looked at me like 'whatever,"' said Franklin. "Tough as nails."

Couture, meanwhile, set the tone seconds into main event when he launched a low left leg kick and followed it with an overhead right that felled the big man.

Sylvia was befuddled throughout. He was unable to get his offence started and seemed taken aback by Couture's accurate strikes. Couture kept outside his long reach or ducked Sylvia's punches - dancing in to swing away when the time was right.

"I didn't want to stand around outside and left him set the tempo, let him find his range, use that long jab of his and set up that right hand. I had to go first," Couture said. "And I felt like I had the mobility and the athleticism to hit him before he had a chance to get to me."

And he lived up to his promise of taking the big man down - and then subduing him on the ground. Couture said the only flaw in an otherwise perfect game plan was that he was unable to do more damage to Sylvia on the ground.

Couture, whose face bore the effects of Sylvia's elbows from the ground, also said he was surprised that he did more damage standing up than when he was on top of the champion.

A frustrated Sylvia mouthed an obscenity as the bell for the end of the fourth round rang. The fight ended with Couture on top of the champion again and the crowd roaring.

Couture, who retired a year ago after a second loss to light-heavyweight champion Chuck Liddell, entered the arena to Aerosmith's "Back in the Saddle." He looked great and fought better.

"He's a freak of nature." UFC president Dana White said. "He's unbelievable."

Couture played down such talk.

"I appreciate it, and it's flattering. I just feel like a regular guy most of the time. Occasionally regular guys have exceptional things happen to them and this was certainly one of those nights."

The win made Couture (15-8) a five-time UFC champion: three times at heavyweight and twice at light-heavyweight.

Sylvia, who dropped to 25-3, said in the ring that he had come into the fight carrying an injury but was beaten "fair and square." He did not attend the post-fight news conference but Hughes said Sylvia had an injured back and had considered pulling out of the bout.

"Even if he did, he should have never said it," White said when asked of the injury and the comment in the ring. "Tim has an big image problem, you could see it tonight. Tim's a good guy. He'll come back. He's a tough kid. This is going to be a hard one for him. There was no doubt in his mind he was going to beat Randy Couture tonight. He was overconfident."

Sylvia, not the most diplomatic of athletes, has not been a popular champion and was booed at both the weigh-in and the fight. But his awkward look and seeming chip on his shoulder should not obscure legitimate fighting skills.

Couture will meet Mirko (Cro Cop) Filipovic next, assuming the Croatian sensation beats Gabriel Gonzaga at UFC 70: World Collide in Manchester, England on April 21.

Not everyone welcomed the UFC's visit to Columbus. In a column Sunday, the editor of the Columbus Dispatch newspaper noted that his paper's front page story Friday had drawn criticism from some readers.

"Part of our job is to be sensitive to our readers' tastes," wrote Benjamin J. Marrison. "Another part is to tell and show what is happening in our world and our community - even if we don't like or condone it."

Earlier, MacDonald and Franklin bulled each other by the fence as their 185-pound fight opened before Franklin started nailing MacDonald with some accurate strikes when they returned to the centre of the ring. And he cut the Canadian around the eye when he got him on the ground, firing blows from above.

MacDonald had difficulty taking Franklin down, and paid for it every time he tried.

In the second round, MacDonald tried to work from the bottom but Franklin was too strong. The ex-champ mounted him twice and punched away with MacDonald saved only by the bell.

MacDonald (19-8) staggered back to his corner, his battered face leaking blood and cornerman Mark Pavelich signalled the fight was over, giving Franklin the TKO win.

"He looked like the old Rich Franklin," White said. "We're excited to have him back."

Franklin (23-2) was making his first foray into the ring since being outclassed last October by Brazil's Anderson Silva in just two minutes 59 seconds. Now Franklin is looking for payback, with Cincinnati the likely venue.

Hughes (43-5) relied on his wrestling skills to take care of Lytle (32-14-4) in his first outing since November when he lost his 170-pound title to Montreal's Georges St. Pierre.

Should St. Pierre dispose of Matt Serra next month at UFC 69: Shootout in Houston on April 7, he will meet Hughes for a third time - in a bout likely to be held in Canada, White said. Montreal would be the natural site.

"I think if I fight in Canada, that puts a little more pressure on Georges, to be honest," Hughes said. "I think he's in front of his crowd and nobody wants to lose in front of your crowd."

In other news:

-White said Liddell was suffering from pneumonia, which could threaten the Iceman headlining a May card in Las Vegas. Liddell, who has been on a punishing promotional tour for the movie "300," appeared sluggish and incoherent in an interview on the TV show "Good Morning Texas" earlier this week. White, who was to fly out to San Luis Obispo, Calif., to visit Liddell on Sunday to check out his health, said station officials "ought to be slapped and beat with sticks for letting him go on the air like that."

-Filipovic asked to fight Brandon (The Truth) Vera next, according to White. But Vera, who has one fight left on his existing deal, is at loggerheads with the organization on a new contract.