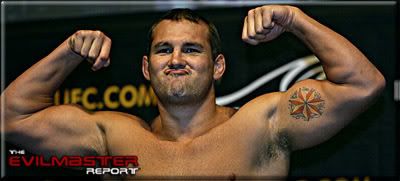 By Loretta Hunt

The Ultimate Fighting Championship has acquired the services of another untarnished fighter in David Heath to face undefeated Ryoto Machida (12-0) at UFC 70 "Nations Collide" in Manchester, England on April 21, UFC president Dana White confirmed to The Fight Network this morning.

Heath, 9-0, replaces Forrest Griffin, who withdrew from the contest yesterday due to a staph infection in his leg. April 21's excursion across the pond to the Manchester Evening News Arena will mark Heath's third visit to the Octagon.

Last August, the Tulsa, Oklahoma native silenced Cory Walmsley (10-1) via a first round submission at UFC 62. In December, Heath backed up his debut with a controversial split decision over Canadian Victor Valimaki (9-3) at UFC Fight Night 8 in San Diego.





**Alternate story from ufc.com**

David Heath to Replace Griffin against Machida at UFC 70

By Thomas Gerbasi

Unbeaten light heavyweight David Heath has stepped up to the plate to face fellow contender Lyoto Machida at UFC 70 after Forrest Griffin was forced to withdraw from the April 21st bout Wednesday due to a severe staph infection.

Attempts to place 205-pound contenders Keith Jardine and Jason Lambert in the bout against Machida were unsuccessful due to a shoulder injury suffered by Jardine, and the continuing recovery of Lambert after a grueling win over 'Babalu' Sobral on March 3rd's UFC 68 card. So the call went to Tulsa, Oklahoma's Heath, who eagerly accepted the bout, which will take place at the M.E.N. Arena in Manchester, England.

"He's an aggressive striker, which I really like about him," said Heath of Machida. "I think his style, mixed with mine, will make for a very exciting fight and I'm looking forward to fighting him."

The 31-year old Heath is in his fourth year as a professional mixed martial artist. Known for his standup game (which is undoubtedly helped by his work with super middleweight boxing contender Allan 'Sweetness' Green), Heath nonetheless surprised the MMA world in his UFC debut last August when he submitted ground specialist Cory Walmsley at 2:32 of the first round at UFC 62. Heath's standup was in evidence in his second Octagon appearance though, as he put on an entertaining three round bout with Canada's Victor Valimaki en route to a hard fought split decision win.