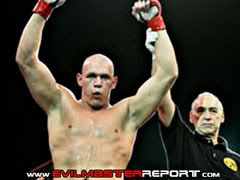 Before last weekend's IFL event in Los Angeles, Anacondas heavyweight Krzysztof Soszynski was only memorable to be for two reasons: I thought his nickname ("The Experiment") was possibly the coolest in the league, and I could never learn to spell Krzysztof right the first time.

That was until he went out and systematically dismantled the Razorclaws' Dan Christison. Not only was Christison significantly larger than Soszynski at 6'8" and probably 270 pounds at the time of the fight, but he had a reputation as a seasoned fighter and skilled ground technician.

None of that seemed to matter when the opening bell rang. Soszynski came right at him, picking him apart with straight rights to the body and picture-perfect takedowns. Not only was Soszynski's game plan superior to Christison's, his confidence, speed, and conditioning were on another level as well.

Soszynski credited his coaches – the now departed Bas Rutten and the recently promoted Shawn Tompkins – with improving his mental game, something that clearly separated this Soszynski from the more defensively-minded one we saw against Mike Whitehead in December.

"[Rutten and Tompkins] changed my mental game completely," Soszynski said at the post-fight press conference. "They're why I'm the fighter I am today."

Soszynski was imbued which such confidence, in fact, that he talked openly about a rematch with Silverbacks heavyweight Ben Rothwell, and specifically asked Tiger Sharks coach Maurice Smith – who was present at the press conference – for a match with Brazilian journeyman Allan Goes at the June 1st meeting of their two squads.

"Are you fighting heavyweight?" Smith asked him.

"Yes sir," replied Soszynski.

"Then you got your wish," Smith said.

While this marked another extremely polite call-out by an another extremely polite Canadian (think back to Georges St. Pierre trying to lay down the gauntlet, only without the accent), it still managed to be a tense moment in the media room.

The always-intense Goes stood right next to Smith while he bantered with Soszynski, and merely grunted his assent when his coach agreed to the match. It's hard to say how that one might end, but it's sure that every other heavyweight in the league will be watching.

Who Can Stop the Sabres?

Though the score of their team win over the Condors was 3-2, the actual match-ups weren't nearly so competitive. Jeremy Williams used his aggressive submissions game to get one win, and Antoine Jaoude came up with a surprise knockout over Wayne Cole to get the other, but the rest of the Sabres were nothing less than dominant.

Vladimir Matyushenko is unquestionably the league's best light heavyweight right now, even though he won't say so. And Savant Young is doing everything he can to get noticed in a stacked lightweight division that features guys like Chris Horodecki, Bart Palaszewski, and John Gunderson.

But what's most impressive about this team is their collective attitude. Coach Ken Yasuda has been pushing a team-first mentality all year, and it seems like his guys have bought in. All you hear from them is how much they want to help the team. It would be annoying if they didn't seem so sincere about it.

With this latest win the Sabres are 2-0, and virtually guaranteed of a playoff spot, providing they don't get swept in their last outing. That match-up will bring them their toughest competition yet, however, when they take on the Wolfpack on June 1st.

A few months ago it would have been absurd to suggest that the Sabres even had a chance against a team like the Pack, but now they may even be the favorite.

Depending on how the match with the Pitbulls goes in Connecticut, that may end up being a must-win for the Wolfpack.