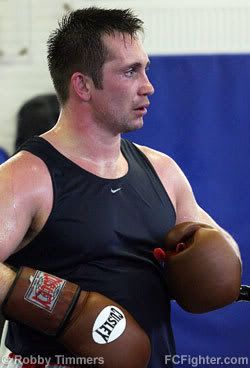 By David West

Robert "Buzz" Berry has pulled out of his scheduled fight against Bob Sapp that was due to take place at Cage Rage 21 on April 21st. Promoter Dave O'Donnell said that Berry cited family commitments behind his decision, which apparently heralds his retirement from MMA. Berry 's withdrawal from competition will leave a big gap in the British heavyweight scene as he was a charismatic and exciting fighter who liked to knock people out. He'll be missed.

Stepping in to face Sapp will be Gary "Smiler" Turner, a veteran of the K-1 circuit. Turner has only a handful of MMA matches under his belt, but a wealth of experience in kickboxing and jujitsu. Turner has been in the ring with world class opponents in K-1 including Michael McDonald, who he held to a draw in 2004, and Carter Williams, who he defeated in March 2006. A two-time British K-1 champion, Turner will give up over one hundred pounds in weight to the giant Sapp. FCF spoke to Turner about his mission to defeat the American giant.

FCF: When were you approached to fight Bob Sapp?
GB: The discussions took place over the weekend when it was clear that Buzz had pulled out of the fight. Talks took place between Dave O'Donnell and my manager Jerome Winters and it was put to Bob Sapp to fight me. He agreed so the contracts are being signed as we speak.

FCF: What's your background in martial arts?
GB: I've got a complex history. I started with judo from 1976 through to 1991, traditional jujitsu from '84 to about 1990, Lau Gar Kung Fu was the start of my striking in '88. That developed into points kickboxing, then light-continuous, then full contact kickboxing. Around '93 I started competing in sports jujitsu, which is like continuous kickboxing combined with wrestling, wearing a gi top. In 1991 I had my first foray into Mixed Martial Arts. I won the Golden Dragon Cup in Rimani, , in shootfighting. I did two of Less Hasdell's shows in the late 90s in which I did RINGS rules shootfighting. Then my kickboxing developed into K-1 and Thai boxing.

FCF: Many years ago at one of Andy Jardine's Extreme Brawl events you said you wanted to fight Bob Sapp in K-1 ...
GB: I've always said that standing up, I'd want to get him up onto my shoulders in a shoulder wheel position, smile for the camera and then slam him into the ground and get the point deducted. But that was in stand-up; this is submission fighting, so the stance is slightly different. Bob Sapp is a media superstar and he's a very, very scary opponent, especially for someone as small as me, so the challenge is immense. If I win comfortably, people will say it's because Bob Sapp is a blow-out. If I lose, they'll say Bob Sapp used his size. I want to get out there and let everyone see that Bob is not just a big guy, he has got technique and skills and he's a very dangerous opponent, then I want to beat him with technique, strategy and skill.

FCF: What's your fight weight?
GB: My fighting weight has been around 108 kilos [237 pounds] recently, but I've dropped down and I expect to come in around 102 kilos (225 pounds).

FCF: What do you think are Sapp's strengths?
GB: His sheer size, not necessarily his weight, but the sheer size he carries with it. If he tries to shoot to take you down, he's got the American Football tackling background, you've got to move one hell of a long way laterally just to clear his bulk. I've fought people of similar weight that are nowhere near the width of him. Obviously he's got the weight and he can displace an opponent if he catches you with a punch. He's sixty kilos heavier than me, but he's also learning technically. He's been doing some good kickboxing work, some good grappling work and he does have some technical ability which people don't give him credit for.

FCF: When was your last MMA contest?
GB: You could say it was 2003 when I won the World Jujitsu Championships in , because it was sport jujitsu so technically that's a mixed martial arts match. Apart from that it would have been back in 1996/1997 on Lee Hasdell's show. Last May I was due to fight Martin Lidberg, who's an Olympic and World wrestling star, on K-1 Scandinavia. I trained up for my return to Mixed Martial Arts and then he dislocated his knee in his last training session before the fight, so we both watched from ringside instead.

FCF: Do you have a good submission game?
GB: I feel I've got an excellent submission game if my opponent is wearing a gi. If you take that away, I'm more limited. I'm working on changing my instincts for no gi, rather than getting a grip on a jacket and I'm now getting in the habit of underhooks, overhooks. I'm satisfied that I have a competent ground game but obviously it's nowhere near as good as my gi game.

FCF: No doubt Sapp will be only too happy to stand and bang with you. Given the size disparity, are you ready for that?
GB: No problem whatsoever. In sport jujitsu I've fought and thrown guys who are around Bob Sapp's weight. There's a giant New Zealander I used to fight on the circuit and I've thrown him a couple of times, got him nice and high with a hip throw and got him up to my head height before slamming him into the ground. As for weathering the storm of Bob's punches, he will displace me but that's the one side of my fight game that I'm not worried about. I'm 100% confident that I can stand toe-to-toe with him if I decide to.

FCF: You're being thrown in at the deep end in terms of the public spotlight. Is there any added pressure from that?
GB: No, not at all. I've fought in front of 18,000 people. I fought the American champion Carter Williams at the Arnold Classic on his home turf and even then I didn't feel any pressure. You're more worried about the guy in front of you trying to club you.

FCF: What have been some of the highpoints of your K-1 career?
GB: I was the champion twice. I came up against a little bit of ageism in K-1. I was looking for a better contract and they said you need to fight some better people. So I said give me better people. I then beat Azem Maksutaj, who bust up K-1 Las Vegas that year and was a rising star, so I took his world title. Then they gave me Gregory Tony, the French champion. He didn't come out for the fourth round, so I stopped him. Then they gave me Carter Williams and I comfortably beat him on points. Then they turned around and said we think you're too old. They thought I'd win a qualifying tournament, go to , they'd invest their money in me and I'd turn around and say I'm retiring now. However, I've never been fitter, never been stronger, never been better, never been more successful and never enjoyed it as much, so I'm not looking at quitting any time soon.