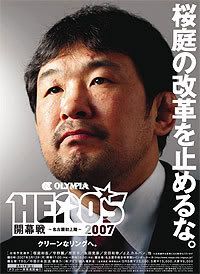 By Kelsey Mowatt

Long List of Notable Fighters Highlight March 12th K-1 Hero's Card

Nagoya, Japan, will host K-1 Hero's this Monday, March 12th, and an impressive list of fighters are scheduled to compete, lending further evidence to the fact that Pride's competition is not limited to the Ultimate Fighting Championship. Factor in that several notable Japanese fighters including the legendary Kazushi Sakuraba will be taking to the ring, and it's likely that this next event for K-1 Hero's will garner widespread attention throughout the island nation.

The promotion has announced 11 fights for the card, a line-up that includes Gary Goodridge, Caol Uno, Hideo Tokoro, Melvin Manhoef, Shaolin Ribeiro, and the aforementioned Sakuraba. Despite the more notable names that are scheduled to compete, it remains to be seen whether the fighters that have been signed for their competition Monday will make for compelling bouts.

The main event will once again feature Hero's prize attraction Sakuraba (19-9-1), taking on Yuri Kiselov (0-2). In what is well documented history, the Pride veteran's last fight against Yoshihiro Akiyama, at Hero's New Year's Eve card, was finally declared a no-contest due to the alleged "greasing" of Akiyama's legs. In Sakuraba's debut fighting for Hero's last August, the 37 year old fighter survived a vicious and lengthy beating early on from Kestutis Smirnovas, only to go on and submit his opponent with an armbar at 6:41 of Round 1. Kiselov has only two professional MMA fights on his record, both losses competing at K-1 Hero's Lithuania events.

UFC veteran Caol Uno (22-9-4) is scheduled to fight Egypt's Ali Ibrahim. Uno is coming off a successful run in Hero's middleweight tourney (155lbs.) last year, where the Japanese fighter advanced to the finals by defeating Kultar Gill and Ivan Menjivar. Uno was finally stopped by Gesias "JZ" Cavalcante in the finals last October, losing to the American Top Team fighter by unanimous decision. Since his signing with K-1 in 2004, Uno has gone 7-3, with his only losses during that time coming to Joachim Hansen, Norifumi Yamamato and the aforementioned Calvacante.

One of K-1 Hero's increasingly more popular fighters, Hideo Tokoro (16-11-1) will take on Kazuya Yasuhiro (0-2). Tokoro's performances against Royce Gracie and Royler Gracie have certainly contributed to raising the Japanese fighter's profile considerably. Tokoro fought to a draw with Royce at the promotion's 2005 New Year's event, and defeated Royler by unanimous decision in his last bout at the 2006 "Dynamite" card. Yasuhiro, who is regarded to be more of a striker, has been defeated in both of his K-1 Hero's appearances, losing to Rani Yahira and Norifumi Yamamoto.

Dutch fighter Melvin Manhoef (15-3-1) will look to further his own growing reputation as a force to be reckoned with in the MMA world, as he will face Yoshiki Takahashi (28-20-3). In Manhoef's last fight at K-1 Hero's lightheavyweight tournament finals last October, he was knocked out by Yoshihiro Akiyama in the first round. Prior to that, Manhoef had been a wrecking machine, winning 9 straight fights, 8 of which came way via strikes. Several of the accomplished kick-boxers stoppages were against notable fighters during the streak, including Shungo Oyama, Ian Freeman, "Cyborg" Santos and Crosley Gracie. Former King of Pancrase Champion Takahashi has struggled somewhat of late, albeit against several world class fighters. The Pride veteran Takahashi has lost 5 of his last 10 bouts, including losses to Vitor Belfort, Heath Herring, Igor Vovchanchyn and Josh Barnett. For more on Manhoef, check out the interview below that FCF's Antonio Carvalho had with the Dutch fighter.

Heavyweights Gary Goodridge (22-15-1) and Jan Nortje (1-4) are set to battle, in what all likelihood will be a stand up war between two kickboxing vets. In saying that however, Goodridge did defeat Nortje by armbar in 2001 at K-1's Andy Hug memorial event. In Goodridge's last MMA fight, the Canadian resident defeated Tadas Rinkevicius by TKO at Hero's Lithuania event in November. Prior to that, Goodrige was stopped by Heath Herring at K-1's event last March. The appropriately named, 6'11 tall, "Giant" Nortje has had little success competing in MMA fights thus far, and has lost his last 2 fights. His only victory came in 2002, when the South African fighter defeated Tadao Yasuda by TKO.

FCF's 7th ranked lightweight Vitor "Shaolin" Ribeiro (17-1) is set to face Ryuki Ueyama (9-10-4). Ribeiro is yet another world class fighter that Hero's has signed, further bolstering that organization's bid to become a true competitor to Pride. Ribeiro has won 7 fights in a row, and has been impressive while fighting in the United Kingdom for the Cage Rage promotion. Ribeiro's only loss came against Tatsuya Kawajiri in 2004, when the highly regarded Japanese lightweight stopped the Brazilian grappling wizard in the second round. Ribeiro also holds a victory over Kawajiri, as well as such notable fighters as Joachim Hansen, Gerald Strebendt, Ivan Menjivar, Jean Silva, and Mitsuhiro Mishida. Ueyama on the other hand, has been unable to win a fight in 4 years, and has lost his last 4 bouts. The veteran fighter has competed against many well know fighters however, including Hayato Sakurai, Sean Sherk, Ryuta Sakurai and Kazuo Misaki.

BodogFight competitor, the lightweight Kultar "Black Mamba" Gill (8-4), will look to rebound from his recent loss to Rodrigo Damm during the second season of the Bodog television show, against Kazuyuki Miyata (3-4). Gill has gone 1-1 competing in Hero's, stopping Tokoro in the first round by TKO last May, before losing to Uno by rear naked choke in the opening round of the middleweight tourney. Miyata is coming off a TKO win over Ian Schaffa in October, but is perhaps, unfortunately for him, likely remembered by many for his loss to Norifumi Yamamoto. At just 4 seconds of the first round in their Hero's bout last May, Yamamoto caught Miyata with a thunderous flying knee, in what would become one of the greatest highlight reel demonstrations of the acrobatic technique.

Also scheduled for the March 12th card, Mighty Mo will fight Kim Min Soo, Hiroyuki Takaya meets Andre Dida, Shin Hyunpyo will battle Bernard Ackah, and Yoshihisa Yamamoto is set to fight Katsuyori Shibata.