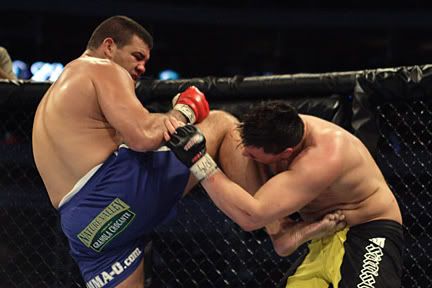 By Keith Mills

American Airlines Centre, Dallas, TX-Sun Production Group's first MMA event "Art of War" for the most part exceeded expectations of its ambitious goals, as the first international dominated card in Texas. In the main event, Brazil's Pedro Rizzo won a three-round decision over fellow Ultimate Fighting Championship vet Justin Eilers, to take the vacant International Fighters Association Heavyweight belt in a war that showed Rizzo return to his aggressive style. Using powerful punches and accurate kicks, Rizzo punished Eilers for all three rounds proving Rizzo may indeed be ready for another shot at the top.




Going into this show perhaps the most anticipated fight was the return of Carlo Prater, one of the most scouted welterweights up until last year. Carlo recently returned from Brazil for another run at the spotlight himself however this performance wasn't quite what is necessary for the main shows. Surprisingly Carlo won a unanimous decision despite receiving most of the damage in his fight against the much less experienced Anthony Lapsley.




If Rizzo/Eilers was a clear decision and Prater/Lapsley was a surprising one then Jason Maxwell/Yuki Inoue was almost too close to call. For three rounds Maxwell and Inoue went back-and-forth doing roughly equal damage and taking each other down as if they had been training partners for years. In the end the judges saw it mixed, with one seeing Inoue win all three, one seeing Inoue win two out of three, and one see Maxwell winning two out of three.

The rest of the main card continued the "Texas vs. the World" theme with mixed results. Shooters MMA's Klas Akesson and Kenneth Rossfort were both caught with punches standing that lost them their fights against Alex Andrade and Anthony Njokuani respectively, while fellow teammate Sonny Neilson won his fight with the quickest TKO of the night against Armondo Valadez. A fourth Shooters MMA fighter representing the London location, Christian Smith, lost by submission.




Not all the fights were "Texas vs. the World" as Georgia's Damien Stelly made quick work of West Virginia's Mike Sheppard via what was announced as armbar but what was actually a keylock, Dallas' own Justin Wren picked up a TKO over San Diego's Justin Howard, and local standout Tom East made San Antonio's Brian Russel submit to strikes.




One aspect that made this show stand out was the non-fight entertainment. At one break in the show about two dozen army volunteers surrounded the cage and took their inauguration vows, while some of the costumes of the ring girls and go-go dancers could best be described as "unique," making up for possibly the worst National Anthem performance in the history of MMA (and believe me, I've seen some pretty bad ones). This show reportedly will air on HDNet although details are still coming. Give this show five stars for concept, four for matchmaking, and three for production.

Look for a full report in an upcoming issue of Full Contact Fighter.

Complete results:
Tom East def Brian Russell 1:51 R1 by submission to strikes
Sonny Neilson def Armondo Valadez 1:16 R2 by TKO
Justin Wren def Justin Howard 1:32 R2 by TKO
Anthony Njokuani def Keneth Rosfort 2:12 R1 by KO
Eric Schambari def Christian Smith 3:12 R1 by head/arm choke
Damien Stelly def Mike Sheppard 1:35 R1 by keylock
Yuki Inoue def Jason Maxwell by split decision (29-28, 30-27, 28-29)
Alex Andrade def Klas Akesson 3:15 R2 by TKO
Carlo Prater def Anthony Lapsley by unanimous decision (29-28 x 3)
Pedro Rizzo def Justin Eilers by unanimous decision (30-27 x 3)