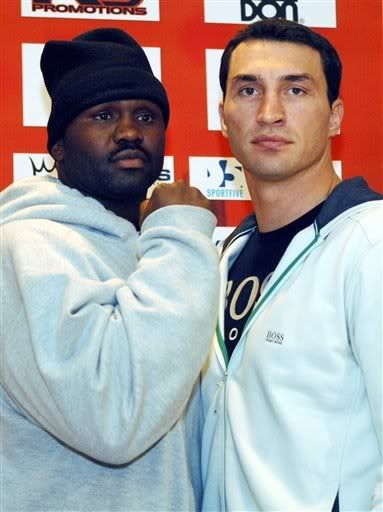 Glove dispute puts IBF heavyweight title fight in doubt

A glove dispute placed Saturday's International Boxing Federation heavyweight championship at the SAP Arena in Mannheim, Germany, in jeopardy late Friday afternoon. IBF heavyweight champion Wladimir Klitschko is slated to defend his title against No. 1-ranked mandatory challenger Ray "The Rainman" Austin.

"This whole fight was conceived under the auspices there would be fair play and complete impartiality," Austin's promoter Don King said. "When the negotiations for this fight began, I made it clear that there should be no officials from the United States or Europe and that the officials should be appointed by the IBF to ensure neutrality and remove even the perception of any impropriety.

"What happened today shows I have not been dealt with in good faith."

When the contract for the match was being finalized in January, defending champion Klitschko said he preferred Grant gloves and the challenger Austin said his preference was to use Reyes gloves.

In order to expedite the signing of the contract, the parties agreed team Klitschko and team Austin would mutually agree upon the gloves Austin would use.

Team Klitschko never brought up the glove issue again until today when, at the rules meeting, held after the weigh in, they announced for the first time they had selected a different local commission to oversee this fight rather than the local commission they chose on April 22 at SAP Arena when Klitschko, as the challenger, was permitted to use the gloves of his choice when facing then-IBF champion Chris Byrd.

Team Klitschko also revealed for the first time today that the new commission will not allow Austin to wear the gloves of his choice, circumventing the "to be agreed on" clause that had been added to the contract.

"They have selectively and conveniently employed dictatorship," King said. "I am now playing a shell game where I have no chance to win."

King offered a coin toss to solve the dispute whereby if Austin won the toss he could use Reyes gloves and if Klitschko were to win the toss, Austin would have to use Grant gloves. Team Klitschko rejected King's offer.

"For some reason, the Klitschko camp is afraid of Austin using Reyes gloves, and I don't know why," King said. "What is Wladimir Klitschko so afraid of that he can't agree to a coin toss to get us past this? Does he really think he's going to lose the fight if Ray Austin wears a different type of glove, just like he did when he challenged Chris Byrd for the title last year?

Klitschko (47-3-0, 42 KOs) weighed in at 246 ½ pounds and Austin (24-3-4, 16 KOs) weighed in at 247 pounds.