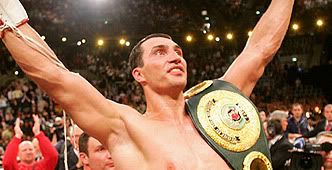 By Klitschko.com

When Wladimir picked up our phone call we could hear the sound of him stepping out of a car. This usually means that Wladimir is on his way to a business meeting, and therefore he wouldn't have time to answer our questions. Luckily this time that wasn't the case, and we were able to talk to him.

Wladimir, during your training did you prepare for an ending that was similar to the one that took place during the fight?

During our training, we developed different plans, with different strategies and tactics. All of this depended on what would happen inside the ring. In the first round my trainer, Emanuel Steward, and I put most emphasis on the quickness of my movements. I had to gather as much information about my opponent's physique, as well as his strategy and tactics for this fight. We accomplished all this completely by the end of the first round.

And can you share with us your analysis?

Ray turned to be a rather big guy, but he was unable to coordinate his movement. Furthermore his tempo was much slower than expected. I was rather surprised that after all those statements that Ray and his promoter, Don King, made about my chin, his horrifying punch, him being the new champion and so on…well, I simply didn't let him accomplish anything that he promised.

What about the second round?

In the second round, Ray Austin's lack of speed and coordination was the deciding factor. I was able to land jabs to his head and then connect with a left hook, followed by more left hooks, which sent Ray to the apron of the ring.

Wladimir, did you expect that your first left hook would lead to the end of Ray Austin?

In the heavyweight division, any punch can end it. In this fight, that left hook was the punch that ended the fight. Did I plan to end the fight in such a way? I really can't tell you. But I was ready to end this fight with a single punch.

Wladimir, you stated that you were surprised that Ray Austin was able to get up after your punches….

Realistically, the first punch was a deciding one. Next three or four punches, weren't as powerful as the first one. When I landed that first hook I felt Ray's chin literally bounce of my fist. Usually after such punched it's very hard for a boxer to get back up on his feet. Therefore, I was surprised that Austin was able to get up before a referee stopped the round. At the same time I'm glad for this, since it meant that Ray can go home without any serious injuries.

Wladimir after the end of this fight how did you feel…disappointed or pleased?

Disappointment did not exist. I felt greatly motivated by such a quick victory. I felt pleased…pleased by this victory and that our training was success.

Wladimir what can you answer to those who already claim that your victory was insignificant since the quality of challenger was not "the best…"

Ray Austin should never be underestimated. He tried to land a couple of shots in the first round. He did everything that he could. But his lack of speed and coordination didn't allow him to become a real threat to me.

Wladimir, we have heard some people complain that the fight ended to quickly…

I understand that boxing fans would very much like to see how I would withstand a couple or Ray's punches and then answer back…They probably expected to see a couple of knockdowns before a knockout…But, for the better or worse, everything has ended the way it ended. I have stated before that if I have a chance to knock my opponent out I will use it. That's what I did.

Wladimir, what do you think about that glove dispute that Don King started right after the weight in? Do you think it was Don King's attempt to get to you…with his threats of pulling out of a fight and so on… or was it really about the gloves?

It was a well thought out deliberate attempt by Don King to put pressure on me. However as you can see all his efforts were in vain. I was disappointed that after all those statements made before the fight, neither Don King nor any member of their team was present at the post fight press conference. This can only speak about his personality…he quietly packed his flags and disappeared.

Wladimir, is it possible to say that since Don King didn't attend the final press conference, it was a sign of "total loss"?

I don't want to say that Don King has been won over. Don King lost. But as they say, you can lose a battle but not a war. He will wait for his next chance to see me lose....I'm completely ready for any provocations from their side.

Wladimir, with this fight behind you what's next in your professional career?

I don't want to take a long break between fights, and we are already planning my next fight for this summer. I think that fairly soon I will know the name of my opponent as well as date and time of a fight.

Wladimir, will your next fight be a unification fight or will you carry out a voluntary defense against a top ten fighter?

Anything can happen in boxing. However we are waiting for Valuev and Briggs to carry out their mandatory defenses.

So if we were to speak about a unification fight, it would only be possible after April 14th when Valuev is fighting Ruslan Chagaev?

Yes, only after that fight we would realistically try to set up a unification fight. I hope that Valuev will win and will be allowed to fight me.

Wladimir, now that the fight is won, and everything else is being taken cared off. How are you going to spend your free time?

Our work with organizations of this fight is far from complete. We have to run analysis, see if everything was professional, what mistakes were made and start to develop plans for the future. But at the same time I wouldn't mind spending some time playing golf… that is actually what I'm about to do in few minutes once the interview is over.

Wladimir, we want to thank you as well as congratulate you with your victory!

I want to thank you all for your support that you have given me during my fights. Believe me, your support is very important to me. I hope that all of you took pleasure from the fight as well as our victory. Now we have a new fight coming up, which I hope will be a unification fight.