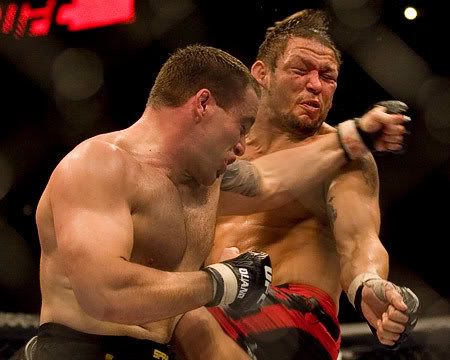 By: Brad Crytzer
Photo: Ed Mulholland

In the first upset of the night, Jason "The Punisher" Lambert scored an impressive second round knockout over former title challenger Renato "Babalu" Sobral, midway through the second round of their three round contest.

In normal "Babalu" fashion, Sobral brought the fight to Lambert early snapping out a low kick and catching him with a number of hard shots. With the stronger of the two men now stunned, Sobral scored a takedown that excited the crowd. In the full guard of Lambert, Babalu worked his way to the fence where he took his opponent's back. While Sobral clung to the back of "The Punisher," Lambert fought off multiple choke attempts valiantly and somewhat surprisingly. Working back to his feet after an incredible exchange Lambert refused to give up the round landing brutal uppercuts from the clinch. Though Sobral was taking punishment he still delivered a few knees of his own. While Sobral was throwing the knee, his hands were dropping allowing Lambert to crash a right into his chin flooring him at the bell.

The second round saw Sobral continuing to work the knees when Lambert muscled him into the fence scoring the takedown. On top of the Brazilian, Lambert lived up to his moniker dropping hard punches to the wary Sobral. Backing off Lambert decided that he had a better chance on the feet. Never one to back down from a challenge, Sobral lunged in one final time for a knee with his hands down and paid the price as Jason "The Punisher" Lambert crashed a left hook into his jaw that dropped him immediately. The official time was 3:36 of round two.

"I wasn't even worried about this fight," Lambert said. "You saw me come into the cage with a smile on my face. I trained hard for six weeks and I feel great."

With this win Lambert extends his stay in the UFC advancing to 23-6 while "Babalu" Sobral falls to 27-7.