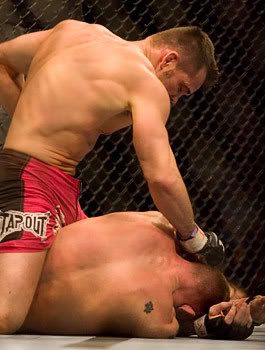 By: Brady Crytzer
Photo: Ed Mulholand

Rich "Ace" Franklin showed why he was and, perhaps, will be again, the UFC world middleweight champion by picking apart Canadian upset artist Jason "The Athlete" MacDonald and forcing his corner to stop the fight following the end of the second round.

"Losing two fights in a row is something that can destroy someone's career."

Those were the words uttered by Franklin just before stepping into the cage to do battle with the Canadian.

Franklin looked to return to championship form early, with clear intentions of keeping the fight on the feet. Looking to implement his own game plan, MacDonald secured a leg of Franklin but could not bring the well-balanced former title holder down. As the men fought in the clinch, Franklin simply backed away a ripped a hard left that caught MacDonald. With "The Athlete" on the defensive, Franklin landed good combinations in an effort to finish the fight.

In an attempt to get "Ace" down to the mat yet again, MacDonald snagged the leg in vain as he could not get Franklin down. Backing away from the clinch again, Franklin looked to land big punches. Following a scramble, MacDonald finally took Franklin to the mat. As the round came to an end neither man had a clear advantage in the position.

The second stanza saw a desperate and frustrated MacDonald go for the takedown, yet again, with no success. Franklin continued to control the stand up in a big way and just missed with an overhand left that very well could've ended the fight. Capitalizing on the mistake, MacDonald took the fight to the floor where he tied Franklin up in knots while looking for an arm. Just when it looked like MacDonald was going to shock the world again, Franklin showed the heart of a champion by reversing the position and raining down devastating punches. Unable to escape MacDonald turned his back to "Ace" where the shots continued to fall. As the ten second clapper sounded referee Herb Dean allowed the punishment to continue to avoid a Chavez-Taylor-like stoppage. As the buzzer sounded, Franklin looked at Dean puzzled as MacDonald rose to his feet. In no condition to continue MacDonald's corner waved off the contest.

"In a sport like this it is easy to get distracted," Franklin said. "You begin to focus on things other than your career. You think about your family, friends. When you fight you have to put everything that you have into it because it is your living."