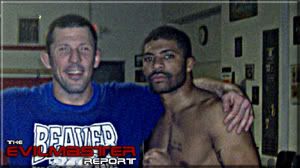 L.C. Davis has made a career decision. He is following a dream.

A traditional wrestler throughout his life at Fort Scott High School, Labette Community College, and Missouri Valley State, he is embarking on a Mixed Martial Arts (MMA) and Ultimate Fighting career.

Davis, the Pratt Community College assistant wrestling coach, will resign this May to pursue his dream.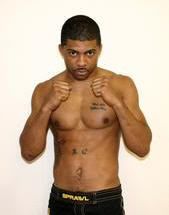 He believes the time is right. He is young, healthy, single, and childless. The sports explosive growth is also a factor.

"Right now, I think is the perfect opportunity for me to jump on it and take it as far as I can go," said Davis.

MMA is a combination of different martial arts disciplines that include punching, kicking, throwing, pinning techniques, and joint lock.

Why Ultimate Fighting and MMA?

"I had all the abilities in wrestling, but I never really accomplished much, which gave me the drive to keep going, because I wanted to compete and fulfill something," said Davis.

Competition also fuels his drive.

"I love to compete," he said. "I am a competitor. I am a true competitor. I compete in anything I do. If it is ping pong, I am going to try my best to be my best at it."

He has ambitions.

"In the next year, I want to be the best 145 in the U.S.A., and eventually, in maybe two years, I want to be the best in the world," said Davis. "In the next year, I want to start taking on the top 10 ranked guys in the U.S. and keep moving up. I have to take it one fight at a time and keep winning."

His philosophy is not to progress against weaker opponents but to accept reasonable challenges.

The 5-8 Davis fights at 145 pounds. He racked up a 3-0 record as an amateur and is 5-0 professionally. He has competed on International Sport Combat Federation, Titan Fighting Championship, and Victory Fighting Championships cards.

He meets Shane Waits, a former Labette CC wrestler, in Kansas City, Kansas's Memorial Hall at 7:30 p.m. Fri., March 23. It will be part of the Titan Fighting Championship's "Red Rumble."

His first amateur bout came on July 29, 2005. He TKOed Dave Hancock in 1:30.

"I was so nervous right before the fight," said Davis. "I couldn't even keep down water, but as soon as I stepped in the cage, a calm came about me."

There are nine methods to win in Ultimate Fighting: knockout, technical knockout, submission, judges' decision, technical decision, technical draw, disqualification, forfeit, and no contest. A fighter must tap his opponent or the mat or make a verbal request to submit.

Who you know, whom you train with, and whom you defeat are methods to climb the ladder.

The next step in Davis's career is attending Pat Miletich Fighting Systems in Bettendorf, Iowa, to train with and against elite fighters. He is tuning up in Bettendorf prior to his March 23 bout.

"If I was to train at Miletich for a year straight, I think I could be one of the best out there," said Davis. "I have been training pretty much on my own since I've lived in Pratt."

PCC head wrestling coach Chas Thompson has helped with Davis's training sessions and attends his bouts.

Miletich is a five-time world professional MMA champion. He has also trained 11 professional MMA world champions and currently trains and manages fighters.

"He brings me up because I think he sees something in me," said Davis of Miletich.

In December 2006, Davis traveled to Bettendorf. Miletich matched him against two world-class 155 pounders. It was a test of his toughness, commitment, potential, and dedication. He passed.

He is also trained by Dan Tharp, who he anticipates being in his corner March 23.

Due to Davis's full-time commitment, Tharp will be unable to provide the attention he desires; therefore, he will train with Miletich in the future.

To help finance his career, he has created 'Team 25'. Davis can be contacted at menolikeu133@yahoo.com for details.

Miletich asked Davis to join his International Fight League team, the Silverbacks, during the 2006-07 PCC wrestling season, but his commitment to the Beavers prevented him from accepting the offer.

The weight class Miletich wanted Davis to enter also posed a problem.

The UFC and IFL do not have a 145-pound class. The lowest class is 155.

Davis, whose non-fighting weight is approximately 160 pounds, would face 155-pound fighters weighing over 170 pounds after weigh in.

Davis faced two 155-pound fighters at Miletich's in December 2006. After a training session, he felt he was not prepared to move up in weight.

His decision was not a reflection of his skills or attitude.

"I have fear, but I control it," said Davis on entering the cage. "Instead of saying 'Oh, I'm scared or nervous.' I say: 'I am excited and I'm ready to go.' It is all about controlling your fears.

"When I go in there, I go in there a madman. Outside the cage, I am a nice normal guy. I think that is why it helps me be a better person."

"I think it has made me more humble," he added. It is also a vehicle for reducing stress.

Davis feels he is more mentally fit and disciplined since beginning his career.

"It is a test every time for me," he said. "It tests me as a man. It takes a tough guy to put yourself out there. No one can help you. You are out there in front of thousands of people. You are going to step up or step down. Sink or swim."

Davis will ultimately swim.

(Source)