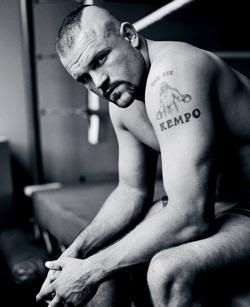 By Loretta Hunt

UFC Light Heavyweight Champion Chuck Liddell's incoherent appearance on the AM TV Talk Show "Good Morning Texas," was attributed to illness commented both Liddell and his longtime trainer John Hackleman to The Fight Network this afternoon.

Liddell was interviewed on the Dallas-based show this morning to promote Warner Brother's pending release of the Spartan period piece "300," and appeared groggy, nodding off at one point while host Gary Cogill reached over to the fighter to ask if he was okay.

"I am sick and rundown and need to get back to training," Liddell emailed me this afternoon. Trainer Hackleman says Liddell has a sinus infection and took the sleep medication Nyquil at 4 AM to try and get rest.

Liddell is expected to make his sixth title defense for the UFC in May.