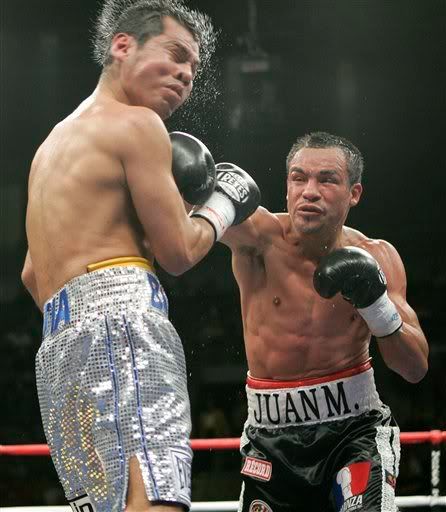 By Lance Pugmire

He earns a unanimous decision to wrest WBC super-featherweight belt from countryman.

LAS VEGAS — Confronted with a task more daunting than achieving history, Juan Manuel Marquez on Saturday night took on Mexico's boxing legend Marco Antonio Barrera.

By continually beating the aged World Boxing Council super-featherweight champion to the punch in front of 8,127 at Mandalay Bay Events Center, Marquez not only claimed a unanimous decision and the world title, he and his super-bantamweight champion brother Rafael now stand as the first siblings to hold WBC belts simultaneously.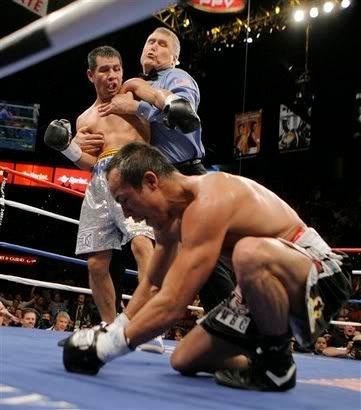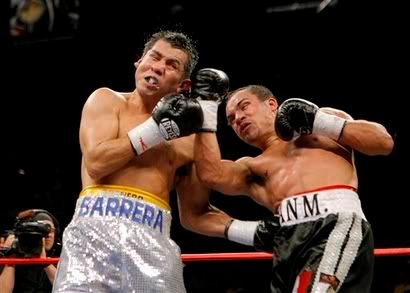 Marquez (47-3-1) won by scores of 116-111, 116-111 and 118-109, overwhelming his Mexican countryman with several rights that sent Barrera (63-5) reeling, and sometimes left the beaten champion flinching backward in anticipation of barrages.

Reasserting in the ring after the fight that the judges "gave us nothing, we earned everything," Marquez faced his most peril at the end of a classic seventh round.

He had Barrera in trouble by stunning him with three big right hands, then delivered another flurry that backed the fan favorite into the ropes. Marquez continued zapping Barrera with three consecutive lefts.

Barrera, having made a career of recovering from overwhelming situations in the ring, rallied in the round's final seconds with a stiff right cross that knocked down Marquez.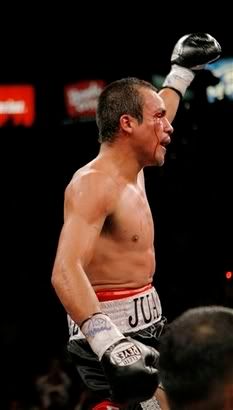 Barrera seized forward, smashing another right to the kneeling challenger's head.

However, referee Jay Nady ruled that Marquez had slipped and subtracted a point from Barrera for throwing the punch with Marquez down. A round that could've been awarded to Barrera by a 10-8 score instead was given to Marquez, 10-8.

Nady said after the fight that he made a bad decision.




"From where I was standing, I didn't see the [knockdown] punch land," Nady said. "I thought [Barrera] hit him with a shoulder."

Barrera, 33, said, "I'm a fighter. I see blood, I go after my fallen prey."

Marquez capped off his punishment with a string of big punches and impressive counterpunches to win the three final rounds on all three judges' cards.

With both fighters bleeding from one eyelid, the fight was capped in the 12th round by a crowd-raising flurry. Marquez got the best of it, ran to his corner and stood on the ropes, raising his arms.

Barrera reacted to the decision by shrugging his shoulders.

"Those were bad judges," Barrera said. "I won the fight, and I don't know what happened."

Said Marquez: "I was pressuring him every round, you saw it that way, and the judges saw it that way."

Barrera had planned to fight once more, perhaps a rematch. He said he was going on vacation with his family and would "decide what to do next."

Earlier, southpaw Daniel Ponce De Leon (31-1) retained his World Boxing Organization junior-featherweight title by throwing a steady barrage of combinations against challenger Gerry Penalosa of the Philippines, and scoring a unanimous decision, 119-109, 119-109 and 120-108.

Penalosa (51-6-2) hurt Ponce De Leon with counterpunches in the first half of the fight.

"I'm going to work on my defense," Ponce De Leon said.

Penalosa said he "thought I won that fight," but Ponce De Leon's attention to landing body blows in the early going and ability to remain active until the end impressed the judges, even though it was clear the champion lacked the power to notch his 29th knockout.

Judging also was an issue in the undercard, when junior welterweight Demetrius Hopkins remained unbeaten (26-0-1) with a unanimous decision over Steve Forbes, a former participant on the ESPN boxing reality show, "The Contender."

Forbes (32-5) out-punched Hopkins and landed 40 more power punches, according to ringside statistician CompuBox, and veteran boxing writers had him easily winning on their unofficial scorecards.

Yet, two judges awarded Hopkins victory by scores of 118-110, and another scored the fight 117-111 in favor of the nephew of former middleweight champion Bernard Hopkins. The majority of the crowd loudly booed the decision.

"I'm in shock," Forbes said. "I won the fight. I want an immediate rematch."

(Source)