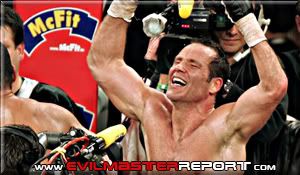 By Wolfgang Schiffbauer

On November 23, 1996 at the Olympiahalle in Munich, Germany, Virgil Hill defeated Henry Maske in a WBA/IBF light heavyweight unification. Maske, a German superstar, announced prior to the bout that it would be his last. In front of over 12,000 spectators, Hill won a close split decision. Maske retired. Now, ten years, four months and eight days later, at the very same arena, Hill, now the WBA cruiserweight world champion, faced Henry Maske one more time. Again in front of the sold-out tousands in Munich. The only title on the line: Redemption.

The first started, as expected, slow. Maske and Hill, both 43-years old, tried to figure each other out with their jab. It was Hill, however, who was more active and landed some good straights to the body of southpaw Maske. The German stepped up the pace in the second as he tried to etablish his jab. But Hill was to quick with his right, landing it to the body at will to win the round. At the end, both fighters engaged in a little exchange with no meaninfull punches landed. The third was Maske's best so far. He was able to caught Hill with some good right jabs but Hill was still the more active boxer and occaisionally catched Maske with his left-right combinations.

Round four was another close one. Maske was able to catch Hill with his jab and his left straight, while Hill connected with some good body shots. It was, however, a better round for Maske, who still showed some signs of ring rust. Hill's left eye started to swell in the fifth as a result of Maske's jab, who was now in control of the bout and catched Hill often with his straight, fast shots. The current WBA cruiserweight champion started more aggressive into the sixth stanza, returning to his body attack. But Maske looked for counters and was able to land some good right hands at Hill's face. Round seven was also close, but it was Maske, who seemed to dictate the action and land the clearer punches.

"Quicksilver" Hill tried to corner his foe but was unable to, as Maske showed good ring generalship. The eight was the most spectacular so far: Maske was able to outbox his foe in the first part of the round but then an accidental headbutt occured and Hill was badly cut over the left eye. As a result, the referee took a point away from "Gentleman" Maske but clearly marked the cut as a result of an accident. Because of the bad cut, Hill changed his fight plan in the ninth, moving around the ring and trying to knock Maske out with a single punch. But still, it was Maske who was in command of the round, as he countered Hill's attacks.

Going into the tenth, it seemed like the underdog Maske was able to build up a small lead on the scorecards. Hill was playing the same game like in the ninth, looking for the big money punch, without getting caught anymore on his left eye. Maske, however, was still better. He landed better punches and outboxed Hill. As the championship rounds started, Maske was in control of the fight. The American tried to connect with wild punches but was again countered very well by Maske, who already suprised everyone with an exception of his own team. The twelth and final round was another great one for the comebacking Maske. He once again sensationally outboxed Hill, who was completly out of the fight in the later rounds. Maske had won the bout, and it only had to be confirmed by ring announcer Michael Buffer, who read the scores ten years ago. Moments later, it was official. 116-113 and 117-110 twice, a unanimous decision for Maske.

"The crowd was amazing, they gave me the time to do my mental work. And it was a mentally tough fight", said Maske after the bout. "Boxing is a sport you can never be sure of winning. But during the middle of the bout, I felt like I was on winning street." Maske didn't comment on a possible return to the ring after this great show against Hill. The "Gentleman" thanked the crowd of 12,500, all of them on their feet in excitement for Maske.

He was inactive for over ten years. He fought the only guy who ever beat him, in 1996. He was a huge underdog and his comeback was compared to the devastating Axel Schulz attempt. But he was looking for redemption and shocked the world. Henry Maske finally got his revenge, in beating Virgil Hill in Munich after an amazing performance. After two rounds of ring rust, he came back strong, and slowly started to completely outbox Hill. A sensational performance by the "Gentleman" Henry Maske.