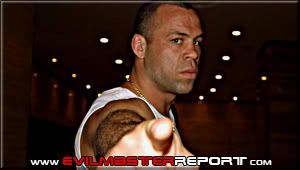 By Loretta Hunt

Though Dream Stage Entertainment is notorious for announcing completed fight cards less than a week out from showtime, there is good reason why recently deposed PRIDE Middleweight Champion Wanderlei Silva has not been officially added to next Sunday's PRIDE 24 "Kamikaze" roster.

The Chute Boxe pillar is currently under a six-week medical suspension issued by the Nevada State Athletic Commission from a second round knockout sustained by new PRIDE Middleweight Champion Dan Henderson, and will technically not be eligible to fight again until April 11 – three days following the last DSE-run PRIDE event at the Super Saitama Arena.

Silva (31-7-1) is currently listed at PRIDE's official website and was acknowledged at a press conference last week as a participant on April 8. Silva's proposed opponent also remains a mystery.

NSAC Executive Director Keith Kizer clarifies Silva may come off suspension earlier if a doctor clears him for competition, per NSAC regulations. PRIDE representatives are currently coordinating the requisite documentation be delivered to Kizer for review in time.

On March 27, the PRIDE promotion was purchased by Zuffa LLC, owners of the Ultimate Fighting Championship, for an undisclosed figure and rebranded as PRIDE FC Worldwide Holdings, LLC.

Based out of Las Vegas, Zuffa holds nearly monthly events in Nevada.