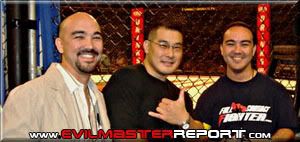 March 29, 2007 Honolulu, HI. Hawaii twin brothers Chris and Mike Onzuka, have been part of Hawaii's mixed martial arts landscape since the sport's inception. "The Twins," as they are often called by Hawaii MMA insiders, have been selected to receive the Icon Sport Achievement Award at the Saturday, March 31st Icon event "EPIC."

The Onzuka brothers got their start into martial arts in late 1991, when they enrolled into a jiu-jitsu academy operated by Relson Gracie, one son of the famed Brazilian martial arts family. The Onzukas originally discovered the Gracie art after reading an article in Black Belt Magazine entitled "Gracie Jiu-Jitsu versus the World." The article told of the Gracie family challenging their martial art against other styles in no-holds-barred competitions. Through the Onzuka's relationship with the Gracie family, they were clued into the planning of the Gracie's Ultimate Fighting Championship. The brothers traveled to Denver, Colorado in November 1993 to witness UFC #1.

The Onzuka brothers volunteered their services to promoter T. Jay Thompson when he held his first Hawaii Super Brawl events in 1995. Thompson immediately put them to task in multiple roles, including judging, advising, and commentating.

In 1999 the Onzuka's created "www.onzuka.com," a personal website that quickly grew into the primary resource for mixed martial arts, grappling, and traditional martial arts news and information in the State of Hawaii.

Chris and Mike Onzuka either referee or assist with almost every grappling and mixed martial arts competition in Hawaii. Both are accomplished competitors as well, each having earned brown belt status in Gracie Jiu-Jitsu. Mike Onzuka also holds a brown belt in judo, which he earned at Honolulu's prestigious Shobukan Judo Club. The brown belt, both in jiu-jitsu and judo, is the final belt a practitioner can receive before earning the highest level of accomplishment, the black belt. Off-the-mat and outside-the -ring, both have been instrumental in providing crucial testimony to State lawmakers and the State Auditor for mixed martial arts legislation and regulation.

Today the Onzuka's own and operate the O2 Martial Arts Academy in Aiea, Hawaii. The O2 Martial Arts Academy offers Gracie Jiu-Jitsu, submission grappling, kickboxing, and escrima. They are the co-hosts and producers of Fighter's Club TV, a public access program that focuses on martial arts news and events. Mike Onzuka also serves as analyst alongside play-by-play announcer Kanoa Leahey in the Icon Sport broadcast team. Chris Onzuka has been a judge at almost every Icon Sport event in its twelve-year history.

The Icon Sport Achievement Award is given to pioneers, contributors, and diplomats of mixed martial arts athletics. Haru Shimanishi of Honolulu's HMC Academy was the first recipient of this award.