By Scott Holmes

DALLAS, — Guy Mezger and the Sun Production Group kick started the new "Art of War" organization Friday night in front of 6,722 fans at the American Airlines Center, home to the Dallas Mavericks who boast of a 20-game win streak in the building.

Apparently the Mavs left enough of their winning mojo in the house since all of the local boys did good. With the crowd rooting on the hometown fighters, they went 5-0.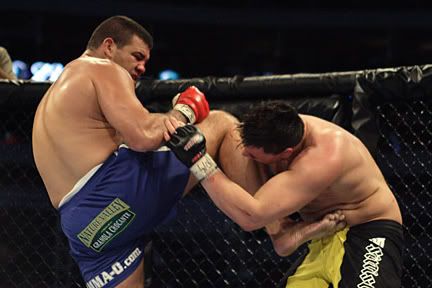 Headlining the event was two former UFC heavyweight contenders, Justin Eilers and Pedro Rizzo. One thing that immediately stuck out is that Rizzo pressed the fight as opposed to waiting and countering like usual.

He stalked Eilers from the opening bell and of course landed his usual hard punches. Eilers is tough as nails and he took many of the Brazilian's hardest shots and posted tall. Rizzo tagged Eilers halfway through the first round and it caused him to fall down to his knees, though it was unclear if he was loopy or just got hit so hard he lost his feet. Regardless, Rizzo tried to jump on Eilers, but he recovered and kept his attacker in the guard.

Eilers rolled over and turtled up when Rizzo began trying to time some punches to the side of his head. The sound of Rizzo's shots were so loud that it startled writers around me. Eilers fought back by throwing some sharp elbows, but "The Rock" continued to punish the former Iowa State linebacker until Eilers picked his moment and exploded up, using the fence to get back on his feet. After the opening melee, Rizzo wore a cut across the bridge of his nose and Eilers appeared roughed up.

During round two these guys again just wailed on one another. Each time Rizzo landed a stiff jab, it wouldn't have surprised anyone if Eilers toppled over. The American slugger got in more than a few hard shots on Rizzo along the way.

Both men hit each other hard enough to snap back their heads. An ex pro boxer sitting next to me whistled at the brutality that comes with heavyweights wearing light gloves. Rizzo's onslaught eventually pays off and Eilers is hit flush. He turns his back to Rizzo but is saved by the bell.

Going into the third round Eilers looked like he's been in a car accident, but he's not going to give in. He gets off a combo that has his corner yelling for him to finish. The heavyweights clinch against the fence and Eilers starts to get some real work in. He knees Rizzo's thigh a few times and then lands about a dozen hard body shots to the Marco Ruas' disciple's left side. Eventually, Rizzo has enough and in a scramble he gets Eilers sitting with his back to the fence. Rizzo starts to throw wild elbows and opens up a cut Eilers' forehead and hairline.

The round ends as Eilers kicks him off. This was a pretty brutal fight with heavy blows and stiff jabs from both men. Judges at ringside scored it unanimously for Rizzo.

Preceding the main event Carlo Prater rolled in to take on Anthony Lapsley. Prater may have the experience but Lapsley wasn't too concerned as he proved to be just as technical. Both men battled hard with tons of position changes and several times it looked as though either could end the fight.

Prater was able to pull out a unanimous (yet close) decision (29-28 three times) in a fight that I can't do justice. There were foot stomps, mount reversals, a shoulder throw, knees to the body and worse. It seemed like "The Recipe" had the upper hand the first half of the fight with Prater taking over in the latter portion. Lapsley showed a lot of class in the defeat and an immediate rematch would be warranted. Both men laid it on the line.

Nothing adds more to excitement of fight night than pandemonium in the ring. I guess Alex Andrade of Dallas and Klas Akesson of Sweden decided that they wanted to be the topic of water cooler discussion as they put on a war of their own.

The Swede had the reach advantage while Andrade had the crowd. Round one was full of knee trading, underhook/overhook dancing, and guillotine attempts. The second period had both men once again in a multitude of different positions until Andrade dropped Akesson with a right on the chin that flattened him. The referee stepped in to stop the fight, but as attempted to pull off Andrade, Akesson tried to get up and keep going.

Andrade didn't seem to mind and he circled around the ref to hit Akesson with another one-two that hurt him again. This time the ref really tried to keep the Texan away and finally was able to corral him. The crowd rose to its feet, and I'm still trying to believe what I just saw. Akesson was knocked out twice and still wanted more. Alas, the ref decided that twice was enough and the Lion's Den fighter wins by TKO at 3:15 in the second.

Japan's Yuki Inoue captured my heart as he came out to the classic rock song "Godzilla" and finished his ring entrance with a sumo stomp. His fight with Jason Maxwell was fairly entertaining despite being very sloppy. Inoue spent the majority of the bout leg tripping Maxwell onto his back, but was unable to put the American away. Both men spent most of the match trying to win a position war and fighting for hand control. In the end Inoue won a split decision.

Damien Stelly met Mike Sheppard at 205 and while most of the fights were pretty exciting, this one was not. Stelly made short work of Sheppard by securing what looked like a Kimura, forcing a tap at 1:45 of round one.

Having seen most of Eric Schambari's fights, I was hoping to see him fight some stiff competition since he's easily defeated other opponents. His "test" did not come tonight. Taking the fight to Christian Smith early, Schambari wastes no time getting a takedown, working for an arm-triangle and finishing the fight at 3:12 in the first round.

Anthony Njokuani welcomed Denmark's Kenneth Rosfort to Texas by giving him an Anderson Silva-esque howdy in the form of seven knees to the body while in the clinch. Only 30 seconds or so into the fight and Rosfort's midsection was pink as gum. Njokuani's Muay Thai game was on display as he fired off a high right kick followed by a left straight and then a right on the chin that had Rosfort land on his face. Literally. A fantastic KO, which came at 2:12 of the first, had the whole place rocking.

The third fight of the night was an odd battle between two heavyweights: touted wrestler Justin Wren and Justin Howard. Wren decided to put his head down and just bull rush Howard with overhand combos. Howard, however, was able to effectively counter punch and land some damage on Wren's face.

Wren would check his nose occasionally, perhaps thinking it was broken, but that didn't deter him from rushing straight in again. Howard looked great at times but every time he would get on a roll, he would stop. Both the crowd and his corner were frustrated with Howard for not making an effort to finish.

In the second round Wren wisely decided to make this a wrestling match and went for a single-leg. Howard slipped out but fell down and Wren pounced with hammer punches and elbows until the referee stepped in at 1:32 of the middle round.

Things really got excited with the second fight as lightweight Sonny Neilson from Denmark met Armondo Valadez. Armondo was a man on a mission. He popped Neilson with a left hook and scored a few nifty takedowns. When it did hit the ground Valadez reached and pulled up on Neilson's head until the Dane took an arm and began to work for a submission. Valadez reversed and landed a forearm that drove Neilson's head into the mat. The Scandinavian fighter slipped out of a guillotine and took Valadez's back, spending the last minute of the first round by flattening his foe out. Despite three very convincing tries for a rear-naked choke, Valadez managed to escape and get to the next round.

In his corner between rounds, Valadez complained about his arm, but when the bell rang for round two he ignored the pain and came out banging. Connecting solidly with a spinning back fist that had Neilson wobbly, Valadez tried to seize the moment. But once the men ere against the fence it was Nielson who capitalized with a knee to the midsection that caused Valadez to exhale air so loud that I looked up from my laptop.

The blow was vicious enough to force Valadez to the floor, where he grabbed his ribs. The referee moved in to stop the fight at 1:16 of the second round. What looked and sounded like some broken ribs luckily turned out to be just a bruise. Neilson finished the fight decidedly but Valadez looked crisp and got off some great punches despite having a sizable reach disadvantage.

The night got started off with a bang as local Tom East took on Brian Russel at 175 pounds.

Russel got the evening started with a bang by dropping East with a punch. It didn't seem to matter. Soon enough East recovered enough to put Russel in a bad position up against the fence. He wasted no time and began to punish Russel with knees and elbows to the body. With his arm pinned down by East's knee, Russel started eating punches until the referee stepped in to stop the fight at 1:51 in the first round.