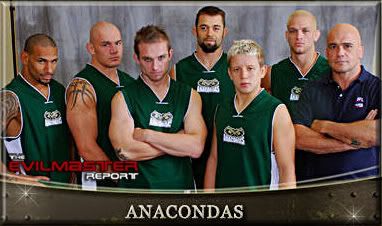 By Ben Fowlkes

Bas Rutten always wants to win, and he has no problem saying so. But next Saturday, when his Anacondas take on the Razorclaws in L.A., he'll have some extra motivation.

Not only are the Anacondas looking to stay unbeaten in 2007, but Rutten has engaged in a war of words of late with Razorclaws coach Frank Shamrock.

It seems "El Guapo" is irritated by Shamrock's public claims that Rutten has offered $1 million for a Rutten-Shamrock match in the near future.

"He's only saying this now, after my last fight where I announced to everyone that I was done fighting," Rutten said. "He's never wanted to fight me. He always said I was too big, too old, too something. He's always ducking me. That's why he left the UFC after I came."

Rutten and Shamrock aren't strangers in the ring, having fought three times in Japan's Pancrase organization in the 1990's, with Rutten winning two of those meetings.

But recently Shamrock, who took on Pitbulls coach Renzo Gracie in an anti-climactic match in February, has publicly called for a fourth bout with Rutten, promising a big payday.




Rutten insists that he doesn't dislike Shamrock, but dismisses his antics as self-promotion.

"He's very good at publicity, but sometimes he goes about it in the wrong way," Rutten said. "He makes up stories. It's just marketing and he knows it. If he actually believed it, he'd be believing a lie, because it isn't true."

Though Rutten and Shamrock won't likely make much contact beyond a handshake in L.A., the tension between the two should add some electricity to an already exciting card.

Rutten said he is particularly looking forward to the heavyweight match, as Krzysztof Soszynski is looking to get back in the win column against new Razorclaws addition and former "Ultimate Fighter" contestant Dan Christison.

This will be Christison's first fight in the IFL, and though Rutten acknowledged that the New Mexico-native is a tough competitor, he believes Soszynski can edge him out for the victory.

"I don't think he's going to run through Dan Christison, but I think he's going to win this fight," Rutten said. "Krzysztof was injured for our last match, but he really wanted to fight Ben Rothwell. Now he has a chance to beat Christison, who was the last person to beat Ben Rothwell."

Soszynski's last fight ended in a decision loss to Mike Whitehead, but it's the TKO defeat at the hands of Rothwell that Soszynski desperately wants to avenge, said Rutten.

"The way he's going now, I think he can beat Dan Christison and then I think he can beat Ben Rothwell," Rutten said.

After the Razorclaws 3-2 loss to Ken Shamrock's Lions to open the 2007 season, many thought the Anacondas would coast to an easy victory over the Northern California squad. But some key additions have strengthened the Razorclaws of late, and Rutten acknowledged that the match is a tough, but winnable one for his team.

Apart from Christison, Shamrock has added veteran 205-pounder Brian Ebersole and tough welterweight Donnie Liles, both of whom will likely be expected to make an instant impact in order to salvage the '07 season.

"I don't think it will be easy for us, but I think we match up pretty good," Rutten said of the revamped Razorclaws. "Of course, we have Horodecki, who's really great, but we're strong in every weight class. They have some good wrestlers, but the good part about my fighters is it doesn't matter where the fight goes."

With a win over the Razorclaws, Rutten's team would put added pressure on every other IFL squad, most notably the defending champion Silverbacks. After losing a very close contest to the Anacondas in Houston, the Silverbacks will have to rally to avoid missing the postseason altogether.

Following that dramatic win, Rutten declared his team to be de facto champions, saying they were cheated out of a spot in the 2006 championships.

Whether that's a fair claim or not, the Anacondas are certainly the team to beat in the IFL these days.