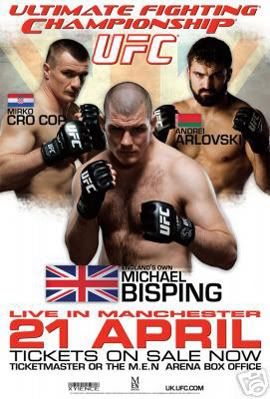 The Ultimate Fighting Championship® is proud to announce that - due to stunning public demand - a limited number of additional tickets have been released for UFC 70: NATIONS COLLIDE at the MEN Arena, Manchester, England on April 21.

With over 5,000 tickets sold during pre-sale, the original remaining seats to the UFC's first UK supershow since 2002 were snapped up almost as soon as they were released.

However, in an effort to make every accommodation for loyal fans who have waited half a decade to experience the world's most exciting combat sport live, the UFC has tweaked the production set-up for the MEN Arena and is now able to release a limited number of additional seats.

UFC President Dana White said: "We've been absolutely blown away by the demand for tickets for UFC 70. Our British fans sold this thing out even faster than a lot of our US based events have sold out. We couldn't have wished for a more enthusiastic response for what is just the start of some huge plans we have for the UK."

One of the reasons UFC 70 has captured the imagination of British fight fans is the sheer depth and quality of the card.

Aptly entitled 'Nations Collide', the April 21 event features a who' s who of the greatest mixed martial artists from around the world including Croatian sensation Mirko Cro Cop, Andrei 'the Pit Bull' Arlovski of Belarus, Forrest Griffin from the USA and England's own Michael 'the Count' Bisping.

"We haven't come here with an average card," White said. "We've come here with the genuine article - a tremendous show jammed with compelling fights between some of our top fighters and the fans have responded unbelievably."

And UFC UK Division President Marshall Zelaznik added: "In keeping with the UFC's practice of making UFC accessible to all of our loyal fans, our production team, with the help of the MEN staff, went to great lengths to rearrange our in-arena production to allow for these new seats to be put on the market. As usual, not only will there by no bad seats, but there will be more seats available in the lower price range."

UFC 70: NATIONS COLLIDE features the heavyweight showdown between Croatian sensation Mirko Cro Cop and Gabriel Gonzaga. Also on the superstar laden card are the 'Ultimate Fighter' season one winner Forrest Griffin taking on counterpunching specialist Lyoto Machida, former UFC Heavyweight Champion Andrei Arlovski vs Fabricio Werdum and, in his triumphant return to his home country, undefeated 'Ultimate Fighter' season three kingpin Michael 'the Count' Bisping - who collides with veteran Elvis Sinosic.

Backed up by a full supporting card, UFC 70 is the biggest mixed martial arts event to ever hit Great Britain and Europe.

About The Ultimate Fighting Championship
The Ultimate Fighting Championship® brand is the world's leading professional mixed martial arts organization and offers the premier series of MMA sports events. Owned and operated by Zuffa, LLC, and headquartered in Las Vegas, Nevada., the UFC® organization produces approximately eight live pay-per-view events annually that are distributed through cable and satellite providers. In addition to its U.S. distribution, UFC fight programs are distributed throughout the world including broadcast on WOWOW, Inc. in Japan, Globosat in Brazil and Bravo in the United Kingdom. For more information, or current UFC fight news, visit www.ufc.com.

Ultimate Fighting Championship®, Ultimate Fighting®, UFC®, The Ultimate Fighter®, UFC® Fight Club™, Submission®, As Real As It Gets®, Zuffa™, The Octagon™ and the eight-sided competition mat and cage design are registered trademarks, trademarks, trade dress or service marks owned exclusively by Zuffa, LLC in the United States and other jurisdictions. All other marks referenced herein may be the property of Zuffa, LLC or other respective owners.