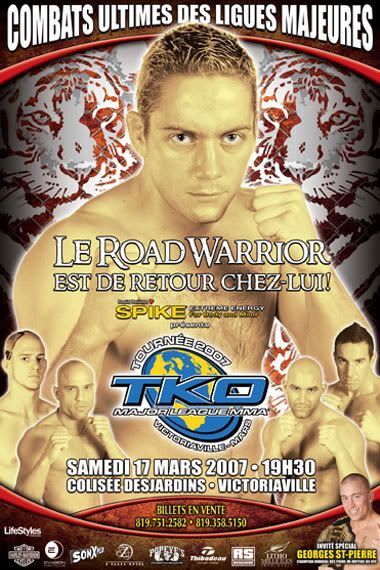 The Colisee Desjardins in Victoriaville, Quebec , will host the first card in TKO's new event series the TKOMMA Tourney, this Saturday, March 17th. Headlining the night will be Victoriaville 's own Jonathan Goulet (16-7) taking on Canadian Martial Arts Centre veteran Jesse Bongfeldt (pro-am 14-6). The fight features two of 's better welterweight fighters, however, Goulet is likely the more experienced of the two, having fought in the Ultimate Fighting Championship 4 times.

During his tenure competing for the American promotion, "The Road Warrior" went 2-2, defeating Luke Cummo and Jay Hieron, while losing to Duane Ludwig and Josh Koscheck. Goulet's last fight against Thomas Schulte at TKO 28 in February was declared a no-contest, after the referee failed to hear the first round ending bell, instead declaring Goulet the winner via TKO stoppage several seconds after the round had officially ended.

Despite not fighting in the UFC as of yet, Bongfeldt is a well known commodity in Western Canadian MMA circles, and has recently been on fire, winning his last 5 fights in a row. During that stretch in 2006, Bongfeldt defeated Canadian veterans Jason St.Louis and Elmer Waterhen, and has not lost a fight since September 2005, when he was defeated by Garrett Davis at Rumble in the Cage 12. Bongfeldt previously submitted Davis by armbar at the Extreme Fighting Challenge 3 in 2004.

The Vernon MMA instructor, St.Louis (10-9) will meet Dave Pariseau (5-3-1) in a lightweight battle, which will feature two fighters looking to get back on the winning track. In his last fight at TKO 28, St.Louis was submitted with a triangle choke by Steve Claveau in the first round. At the same February 9th event, Pariseau lost via first round TKO to Martin Grandmont.

41 year old Stephane Dube (4-1) will look to make it 5 wins in a row against Jacob Macdonald (2-4) in another welterweight bout. The Martial Arts instructor Dube has not been defeated since his MMA debut in 2003 at TKO 13, when he lost to David Goulet by rear naked choke. Most recently at TKO 28, Dube defeated James Martinez for the second time in his career, stopping him in the first round with strikes. Macdonald has forged a reputation in just a few bouts for being an aggressive and resilient fighter, despite his losing record. In his last fight at King of the Cage "Amplified", he lost by unanimous decision to Elmer Waterhen.

Sean "The Pimp Daddy" Pierson (4-3) will finally make his MMA return against middleweight Chester Post (6-7-1). In Pierson's last fight back at TKO 13 in 2003, he was defeated by Steven Vigneault by unanimous decision, marking the third time the two would do battle, as Pierson defeated Vigneault twice in 1999 and 2000. Post is coming off a win over Markhaile Wedderbrun by guillotine choke at KOTC Freedom Fight in January, and has only lost once in his last six fights.

Other notable fights scheduled for the TKO St.Patrick's Day card include Ray Penny (1-1) taking on lightheavyweight Yan Pellerin (8-9) and Bob Landry (1-0) is scheduled to fight Sebastian Gauthier (1-1). The undercard also has 3 bouts scheduled with fighters set to make their MMA debuts.