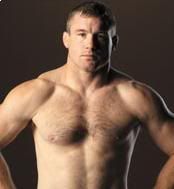 By Steve Sievert

Matt Hughes didn't throw many punches during his unanimous-decision victory over Chris Lytle earlier this month at UFC 68.

He saved 'em for the post-fight interview.

While staying true to his typical understated style, Hughes did take a couple of verbal swings at the UFC when asked whether he felt Lytle was the opponent he wanted at 68.

"When you're the champion, and you get dethroned, I think you should be able to come back and get an immediate title shot, to be honest."

Not only did Hughes not get an opportunity to jump right back in against Georges St-Pierre - which was a potentially questionable move anyway, given the pounding he suffered at the hands and legs of GSP - his request to face Diego Sanchez was also denied.

"I actually asked for Diego in this fight. It's the only time I've really asked for somebody, and they said they had something else going on for Diego. I don't have anything against Diego, I just wanted to fight him."

While Hughes publicly put on a face that he was disappointed about how things came together for 68, the course of action was the right one for the UFC. It's all about continuing to build the momentum for future shows.

Getting GSP a title defense against Matt Serra had to happen, since the TUF 4 winner was guaranteed a title crack (the merits of that decision are certainly debatable). It was the logical move to get that bout, which on paper is a mismatch, out of the way in the near term.

Meanwhile, Hughes' win against Lytle gets the country boy's backers re-energized to further fan the fame for Hughes-GSP 3, which, if all goes according to plan, should come this summer. It has the makings of a huge fight.