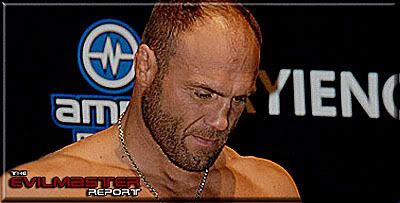 By Matt Hill

Captain America, 2-time UFC Light-Heavyweight Champion, 3-time UFC Heavyweight Champion, The Natural, Father Time and even Joe Rogan's hero…Randy Couture has known many different names in his career as a fighter, but at 43 years of age, the title 'new' heavyweight champion of the world has to be his sweetest yet.

In front of an all-time record, sold out crowd in Columbus, Ohio, this past Saturday night, Randy Couture did what hardly anyone expected him to…he chopped down the giant Tim Sylvia en route to possibly his most impressive victory ever.

But the surprise wasn't simply that he dominated the bigger man, but how he pulled off the win against the much larger, statistically superior striker. Couture out-boxed Sylvia for all five rounds and it was Tim's – not Randy's face that was puffed up and mangled after 25 minutes in the Octagon together.

The fight was crazy and even started with a shocker…just seconds into the fight, Randy threw an inside leg kick followed by a big right hand that did what literally no one saw coming…it put Sylvia on his backside. Randy seemed as startled as the 19,000 fans in attendance, and even hesitated before pouncing on Tim and trying to pound out the quick victory from on top of the big man.

Randy said, "We'd worked on this combination the entire training camp. I studied tapes of him and watched his footwork and when he steps for his jab, he plants his lead-leg real hard. So I thought, you know, if I hit him with a good left cut kick, it would open his legs up, kind of freeze him up and give him something else to think about. [Then], you follow that with the overhand right, left hook – which is what I'd planned to do – but by the time I got to the left hook, he was already gone. I was like, 'where the hell did he go?'"

Randy has always been known as an intelligent fighter who generally puts together seamless game plans and he showed that skill again in his fight with Sylvia.

"I felt like if I let Tim come and control the tempo and establish his range and get himself in the groove and find out where he's comfortable, he was going to be a lot harder to deal with, and I felt that if I came out and hit him first…forced him to back up, forced him to really react to me instead of waiting for him, that it had the potential to be a good night for me and fortunately it worked out."

Most athletes say that when they are in the zone they don't hear chants from the crowd – whether boos, cheers or otherwise – but Randy said, "It almost made your hair stand up it was so loud. The countdown in the last 10 seconds was deafening."

March 3, 2007, was definitely a fairytale night for one of the sport's most beloved athletes, but as Randy said, "There's no rest for the weary…I'll probably start training myself next Monday."

The fight that Randy will begin training for is his title defense against either the insanely powerful Mirko 'Cro Cop' Filipovic or tough grappler Gabriel Gonzaga, depending on the outcome of their April 7th bout. Either of these two men will be tough tests for Couture in his first defense of this new belt, but Couture has always been dealer in the game of upsets.

Randy's next fight will be demanding, but for now Randy can bathe a bit in the glory of his successful comeback, relish his new title as UFC Heavyweight Champion…and maybe, just maybe even dream about beating Mirko 'Cro Cop' and then merging the UFC and Pride belts for real this time in a World Title match with Pride Heavyweight Champion Fedor Emelianenko... now that would be a storybook ending to a fairytale career.