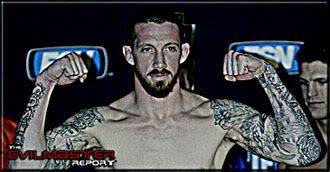 By: Mick Hammond

It's one thing to sit out nearly five years from a sport and come back and be serviceable, but it's a whole other thing to take that amount of time out and actually be successful, but that's what Jeremy Williams of the IFL Condors has done.

After fighting in the late 90's and early 00's, Williams left MMA seemingly for good, until Marco Ruas and the IFL made him an offer he couldn't refuse. So this past January, Jeremy stepped into the ring for the first time in nearly five years and proceeded to dominate Bristol Marunde of Maurice Smith's Tiger Sharks, and in the process helped the Condors take a 3-2 victory in the team battle.

Now two months later Williams once again steps into the IFL ring, this time as the Condors take on the surprising Sabres [coached by Ken Yasuda] and more specifically for Jeremy, Japanese veteran Kazuhiro Hamanaka on March 17th in Los Angeles, California.

"I feel good and I'm real excited about the fight," said Williams of his upcoming match. "I think I have a real tough opponent, Hamanaka; he's real talented and well-rounded."

Jeremy continued, "He's fought in some top shows, so I feel it's a good test for me, to test my skills, so I'm real excited about the fight. I'm just going to go out, match-up, and see how I do."

This coming March 17th's show is the first time Kazuhiro will be stepping into the IFL ring this season, as he was unable to do so at the Sabres' first team competition against the Scorpions earlier this year when his scheduled opponent Shane Johnson failed to make weight.

Williams knows that Hamanaka will be coming out looking to impress after being unable to compete last time, and Jeremy feels that it could work right into his gameplan, or at least make for an entertaining fight.

"I know that Hamanaka is known for being extremely aggressive, so that's good," exclaimed Williams. "I plan on being extremely aggressive also, but if I feel the pace is benefiting him more than it is me, I'll slow it down and control the fight."

"I've kind of always had an aggressive style, I like to finish fights fast, so I'm just going to inflict my game, rather than let him dictate the pace and where the fights go. I'm going to try to come at him just as hard as he plans on coming at me, so it'll probably end up looking like a big cloud of smoke," added Jeremy.

As for how he feels the Condors will do in the team battle against the also currently undefeated Sabres, Williams knows it has the potential to be a tight 5-on-5 battle, which should keep the crowd in L.A. entertained.

"I think it's going to come down to the last fight," admitted Williams. "Every fight's going to be extremely important. I don't think there will be any walk-throughs for anybody on either team, so each fight is going to be a big deal."

Jeremy further commented, "It could very well come down to a 3-2 and could go either way. They've got a couple guys who have a ton of experience, like Antonio McKee and Vladimir Matyushenko, but we have tough guys like Justin Levins and Rodrigo Ruas, so it should be a very exciting night, I think."

With more teams this season than ever before in the IFL, it appears the World Team Tournament Championships are anybody's for the taking. According to Williams, the Condors have just as good of a chance as anybody to take home the coveted championship rings.

"I think definitely – like every other team – overall we're looking on winning and going to the finals," exclaimed Jeremy. "There are some very, very tough teams, but I think match-up-wise, I think every show, but one, has gone down to 3-2. So I think it just depends on the night and what happens."

"Everyone knows that if two fighters are equal, it just depends on the night. It just comes down to how you're feeling that night, your mental status and injuries. We're definitely looking at winning though," continued Williams.

Part of what makes Jeremy confident in his team's chances is their legendary coach, "The King of the Streets" Marco Ruas.

"I really do feel that we have the best coach in the IFL," proclaimed Williams. "I've trained with a lot of coaches and have never had one like Marco. He's amazing, just the time he takes with us and the things he teaches us."

Jeremy added "I've been in the game a long time and I feel like he's really helping us mix up everything. I feel like he's helping all of us grow, as individuals and as a team. It's a real advantage to us just having Marco in our corner, because he's just such a veteran."

And of course there is the added motivation of knowing that if a member of the Condors do screw up, the man waiting for them in the corner is just as dangerous, if not more so, than the opponent they face inside the ring.

"That's what I tell everyone," commented Williams with a chuckle. "Like when I had injuries everyone was asking me if I was going to fight and I was like, 'Yeah I'm going to fight. I'd rather fight three rounds with Hamanaka than go one round with Marco.'"

So far it's too early to tell where both the Condors and Sabres will end up at season's end, but right now both are undefeated and are looking to keep that streak going, and as Jeremy says, the fans will be the beneficiaries of it.

"I would love to thank Marco, my teammates, our assistant coach Debi Purcell, and Tracy Hess, who has been helping me out huge with training, so a huge thanks to him," said Williams. "I'd love to have everyone come out on March 17th, watch the show and watch us hopefully come out with another victory."

"One way or another each fight will be a war and it will definitely be exciting. And tune into FSN every Friday night at 11pm to watch the IFL on TV," concluded Jeremy.