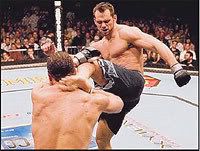 By Tim Feran

The highest-grossing event at Nationwide Arena isn't a hockey game or rock concert.

It's Saturday's kicking, grappling and punching cage match known as the Ultimate Fighting Championship, making its Ohio debut.

The sold-out event has reaped $2.8 million in ticket sales. More than the Rolling Stones, the Blue Jackets or the combined effort of Billy Joel and Elton John.

In the first day of sales, 16,000 fans paid between $100 and $400 to see nearly naked men armed with only their fists and feet climb into an octagonal cage with one goal: beat an opponent into submission.

Despite critics who label the matches "human cockfighting," the sport has exploded in popularity, even beyond its base of young males.

"I used to be a boxing fan," said Andrea Whitehurst, 29, of Columbus. "Now, I can't stand to watch boxing. It puts me to sleep. I think it's because in boxing there are (only) so many moves, so many things you're allowed to do. In UFC, anything goes. I'm sure that's why it's more exciting, why there are so many more fans."

In addition to selling out its live events, the Ultimate Fighting Championship is a force on television. The August premiere of the new season of The Ultimate Fighter on Spike TV, for instance, attracted nearly five times as many men ages 18 to 49 as Major League Baseball did on ESPN.

The UFC, privately owned by Las Vegas-based Zuffa LLC, does not release financial data, but an industry executive told the Associated Press recently that the company's 10 pay-per-view events have generated more than $200 million. That doesn't include income from merchandise or ticket sales to the growing number of matches.

"For the first time in our company's history we have five shows on sale at the same time and almost all are sold out," UFC president Dana White said this week after returning from Britain, where he is setting up the UFC's first live event in that country.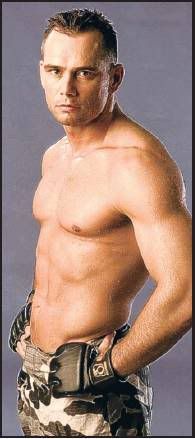 White has a simple explanation for the sport's appeal.

"This is the most exciting combat sport in the world. If you've never been to a live event, it's pretty awesome. It's fun. I don't mean to smash boxing, but when you go to a boxing event, from the beginning to the end it's very uneventful. That's not the case with us. I guarantee the fans in Columbus will get the best live event they've ever seen."

The popularity is especially impressive considering the sport was deemed all but dead when White and his partners bought the UFC in 2001.

Started in 1993, the Ultimate Fighting Championship was initially known for its violent, brutal, no-holds-barred contests, based on Brazilian vale tudo — "anything goes" — bouts.

Political pressure came within a few years as critics, led by Arizona Sen. John McCain, pushed the sport off pay-perview television and almost into bankruptcy.

Enter White and his partners, Las Vegas casino executives Frank and Lorenzo Fertitta. When they bought the UFC in 2001, they sought respectability by instituting rules to prevent major injuries (no more kicks in the groin), ordering mandatory drug tests and submitting to sanctioning from state athletic commissions.

The UFC stresses in all its news releases that no competitor has died or been seriously injured in a UFC event.

"Getting sanctioning by major athletic commissions was key," White said. "Right now we're sanctioned in about 22 states, but we want to be sanctioned in every state, even in states where we're not necessarily going to do a fight."

The UFC took a big leap when Spike TV agreed to air the Ultimate Fighter reality show in 2005.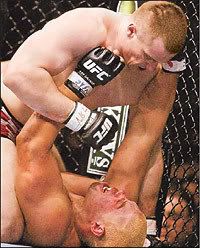 "When we bought it, UFC was not even on pay-perview," White said. "Spike TV was key not only for the exposure but because it was a good tool to educate people and clear up a lot of misperceptions about what the fighters are like."

The UFC stable of fighters — including Saturday's heavyweight sluggers Tim Sylvia and Randy Couture — are athletes skilled in mixed martial-arts disciplines such as boxing, wrestling, karate, jujitsu, kickboxing and sumo wrestling.

But, White said, UFC fighters also are a well-educated bunch.

"Something like 80 percent of our guys have graduated from college," White said. "Compare that to boxing where it's always the same old story — the guy grew up on the mean streets and he would be dead or in prison without boxing."

One UFC fighter with a master's degree, Rich Franklin, began fighting while employed as a high-school math teacher in Cincinnati.

"I had students come in and ask me about fights," said Franklin, a University of Cincinnati graduate who lives in southern Ohio and will fight Saturday. "I know a lot of my old students follow my career."

Ultimate fighting's appeal is not surprising in light of recent — and ancient — history, said Silvia Knobloch-Westerwick, an assistant professor in Ohio State University's School of Communication, who specializes in the effects of media.

"Extreme violence has been a component of entertainment for a long time," she said. "The ancient Romans were even more brutal, and you can think of even more extreme events from medieval times. You would think our society is a little more civilized, but we might have become more desensitized. We see continuous action on television from childhood; we're used to extreme stimulation through the media."

Why do people seek such arousal in the first place?

"It's not something so easily explained," Knobloch-Westerwick said. "But we do know that such arousal is a great mood intensifier. We're hardwired to watch out for violence and threats, so if we see our hero win in an extremely violent contest, it makes us enjoy it even more."

Mike Spiert, 29, of Hamilton Township, plans to attend Saturday's contest. He has become so enamored of the sport that he has stepped into the octagonal ring himself for a couple of amateur bouts.

"It's one of those things where you get to face your fears and actually do something most people haven't done," Spiert said. "It was one of the greatest experiences I've ever had."

For White, the next stop is clear: world domination.

"We're far from being totally mainstream in the U.S.," he said, "and we're moving into Mexico, Canada, the U.K., Europe, Asia."

He paused.

"It's fun," he added. "We have big plans."

(Source)