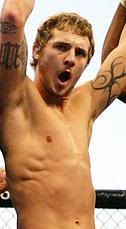 By Steve Sievert

Houston native Eddie Wineland will take a break from his day job to defend his World Extreme Cagefighting bantamweight title this weekend in Las Vegas. The 22-year-old, who logs more than 40 hours a week as a laborer for a steel contractor, claimed the WEC crown with a first-round knockout of Antonio Banuelos last May.

Wineland, now fighting out of Portage, Ind., turned pro when he was 18. He's developed into one of the top strikers in the 135-pound division, with half of his dozen victories, against four losses and a draw, coming by knockout or TKO.

Wineland will step into the cage for one of three title fights Saturday night on the WEC card at the Hard Rock Hotel and Casino. Chase Beebe, who's won nine of 10 mixed martial arts fights by submission since turning pro last year, will provide the opposition.

As part of WEC's deal with Versus, the event will be taped to be part of the promotion's first live show on the cable network in June.