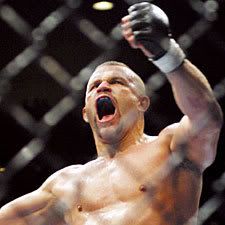 By Sherdog.com Staff

After revitalizing the struggling Ultimate Fighting Championship, and as a result lifting the sport of mixed martial arts world wide, Lorenzo Fertitta, a Station Casinos magnate alongside his older brother Frank, confirmed the purchase of the PRIDE Fighting Championships from Dream Stage Entertainment Tuesday in Tokyo.

DSE and PRIDE CEO Nobuyuki Sakaibara also announced that as part of the agreement he would resign effective April 8, following PRIDE 34 at the Saitama Super Arena.

Joined by UFC president Dana White and the company's matchmaker Joe Silva at the Roppongi Hills Arena, Fertitta discussed the creation of a mixed martial arts commission for which he would act as president. PRIDE will run autonomously under the umbrella of Zuffa, which the Fertitta brothers and Dana White created in 2000 when they purchased the UFC.

Fertitta spoke of making mixed martial arts equivalent to world-wide sports such as baseball and soccer, and also "Super Bowl" type cards which could feature the likes of Randy Couture, Tim Sylvia, Chuck Liddell, Matt Hughes, Diego Sanchez, B.J. Penn facing PRIDE stars such as Fedor Emelianenko, Wanderlei Silva, Mauricio Rua, Dan Henderson, Shinya Aoki, Tatsuya Kawajiri, Takanori Gomi and Hayato Sakurai.

UFC president Dana White offered curt statements, suggesting all other MMA promoters pale in comparison to what Zufffa has now become with UFC and PRIDE, as well as the much smaller WEC, under its umbrella. The aggressive UFC boss received a warm reaction from the near 1,000 fans in attendance before discussing potential dream fights between the organizations' champions and stars.

One of those men is Mirko "Cro Cop" Filipovic, who was responsible for the first real battle won in this war between companies after defected to the UFC earlier this year. During a taped message to the nearly 1,000 fans in attendance, the 2006 PRIDE Open-Weight Grand Prix champion said he wanted to come back to PRIDE and get a second crack at PRIDE champion Fedor Emelianenko, widely regarded as the world's best heavyweight.

But before "Cro Cop" and Fedor face one another again, the first in-ring clash following the merger will feature Jeff Monson against Kazuyuki Fujita, who step into the PRIDE ring on April 8.

A full report as well as video and photos of the scene in Roppongi will be posted shortly.