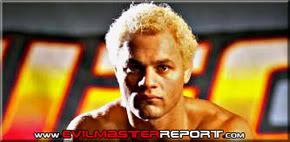 By Brady Crytzer

Koscheck Ready for Pay-Per-View Debut

Whether you are a new fan of the UFC or a long-time veteran, it is always satisfying to watch a promising young fighter grow into a headliner of the sport. For those unfamiliar to the sport of mixed martial arts, prior to 2005's hit reality series The Ultimate Fighter, inquisitive minds were introduced to a crop of young stars who would eventually be some of the biggest stars in the game. One of those men was former NCAA national champion Josh Koscheck.

"It has been a long three years," says Koscheck. "I started out with a great list of wrestling credentials and now I have really grown into well-rounded UFC fighter."

After fighting on multiple Ultimate Fight Night cards on Spike TV, Koscheck has upped his game and is ready to make his pay per view debut against fellow housemate Diego "Nightmare" Sanchez.

"When I first met Diego I thought he was alright," Koscheck said. "As a wrestler I saw that he had this wealth of jiu jitsu knowledge and I had to step back for a second. Now that I have a few good years of training under my belt I know I am at a world class level.

"I had a chance to train with Diego and I had a chance to fight him. I am ready. In camp we have a few guys that would beat him. I know I can beat him."

A battle of two young and confidant welterweight hopefuls, Sanchez and Koscheck have been anything but subtle in their pre-fight jawing. The war of words from both sides has made their April 7th clash one of the most talked about fights of UFC 69.

"There is definitely beef between us," Koscheck said. "This is like Tito and Chuck. They don't like each other. Josh Koscheck and Diego Sanchez don't like each other. Come April 7th everyone will see that we don't like each other. I will beat his ass."

Coming from a wrestling background, Koscheck dominated fighters, but it was his willingness to grow and change that made him an instant fan favorite. To him, like to the fans, MMA was something totally different, but deep down inside, it seemed like it was always there.

"Wrestling at the level that I did gave me an amazing training ethic," Koscheck says. "I believe that wrestling is one of the best foundations for the sport of mixed martial arts.

"Look at the greats of this sport. Randy Couture, Matt Hughes, I believe I will be right up there with them and hopefully we can get more wrestlers coming into the UFC. I hope that I can act as a trendsetter."

Koscheck, a four-time Division I All American and 2001 NCAA National Champion at Edinboro University has found himself in a great situation at San Jose's American Kickboxing Academy. After training in the frozen tundra of his Alma Mater during wrestling season for four years, California's sunny disposition was a nice transition as he takes the next step in his career.

"I don't know how I did it," Koscheck says laughing. "In Edinboro there gets to be around four feet of snow. When you are in that environment there is nothing to do but train and drink beer.

"I live in Fresno now and I can see mountains with snow on top. Sometimes, I look at them and miss the snow, but I am definitely used to this warm weather. I am at a point in my life where the party scene is behind me. I have a beautiful girl and a great home. I am totally focused on fighting."

Known as "the sponge" of MMA, Koscheck has transformed himself from a one-dimensional wrestling powerhouse to one of the most dynamic young fighters in the sport. With training partners like Mike "Quick" Swick, Josh "The Punk" Thompson and Dave Camarillo at the American Kickboxing Academy it's not hard to imagine that this sponge is just about ready to burst . . . or explode.

"Some fighters take their training partners for granted," says Koscheck. "Its not the trainers that make the fighters at AKA great. It's the training partners. Guys like Mike Swick and Jon Fitch, they are both unbeaten in the UFC. We're all very close and we push each other every day. We form a great nucleus and we will all have championships in a very short time."

With opponent Diego Sanchez garnering most of the attention, Koscheck is prepared to surprise everybody by taking out The Ultimate Fighter 1 winner on April 7th. "The Nightmare" is first—after that, all of the UFC's welterweight should be on notice.

"I have changed a lot throughout my fights. I do think that the Georges St. Pierre's and the Matt Hughes' are in my future, but I am not looking past Diego Sanchez. If I look past him he will be 19-0. This will be a great fight. Tune in April 7th. I'm going in there to take his head off."