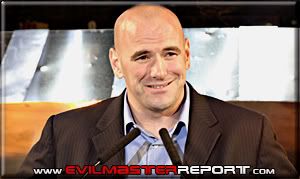 By Loretta Hunt

What's happening in the world of mixed martial arts now…

I'm dedicating this afternoon's update to one figure – the seemingly omnipotent and veritable Dana White. UFC president White elaborated on more than a few points of interest today in a media conference call for Saturday's "UFC 69: Shootout."

• The UFC hopes to hold an event in Mexico by end of 2007 or beginning of 2008.

• "The Ultimate Fighter 5," debuting this Thursday on Spike TV at 10 PM EST/PST, will offer only one UFC contract to its pool of 16 lightweight hopefuls.

• Though it was announced at last week's press conference in Japan that the newly-formed PRIDE Worldwide Holdings LLC. would be run separately from the UFC, White conceded he'll have some say in its direction. "I run everything," White quipped, explaining the company will keep its Japanese employees and remain Japanese-run, though he would "amp up the American side."

• White says a UFC-PRIDE showdown event has been discussed. "We're looking at figuring it out right now. Maybe in a year," he commented.

• PRIDE Middleweight (Under 205 lbs.) and Welterweight (Under 183 lbs.) Champion Dan Henderson will be considered a Middleweight by U.S. Standards in the under 185-pound division. White described PRIDE's past inclinations to match the Olympic wrestler against heavier opponents as "stupid" and that the recent acquisition of PRIDE would help the sport get one step closer to deciding number one fighters in each of the divisions worldwide. White identified UFC Middleweight Champion Anderson Silva versus Henderson as potential match-up in that vein, as well as UFC Light Heavyweight Champion Chuck Liddell and PRIDE 2005 Middleweight Grand Prix winner Mauricio "Shogun" Rua as another.

• There is one proposed PRIDE USA event still on the table for 2007. White could not verify if that event will take place via a schedule soon-to-be deposed PRIDE president Nobuyuki Sakikabara had previously released for late June in California.

• If Mirko "Cro Cop" Filipovic wins his UFC 70 bout with Gabriel Gonzaga in Manchester, England on April 21, he will fight UFC Heavyweight Champion Randy Couture as early as late August-early September.

• On his cancelled boxing exhibition bout with former UFC might heavyweight champion and employee Tito Ortiz along with Ortiz's contention that White pulled the plug, the UFC president said the documentary airing April 12 on Spike TV will shed a lot of light on the situation. "Tito's saying some stuff now, but it's all there on the documentary," White said. "I'm glad it got shot 'because it's all in there."

• On rumored talks with ESPN, White confirmed talks have gone well and "they get it. They're gonna start covering us like all the other sports and they could be showing events too." White said it would only be a matter of time.

• On negotiations with specialty channel HBO, White was optimistic. "We're getting there," he said. "The commentators haven't been a sticking point. I've built a brand over the last six years and I want make sure its done right. HBO says they want to take it to the next level; so it's a matter of production issues, but it's not the commentators. I guess I'm a control freak. "

• White hinted the UFC's next five to six UK events could also be broadcasted live in the U.S. via Spike TV or otherwise. (Four to five bouts on UFC 70 "Nations Collide" roster will be broadcast on a five-hour delay to the U.S. via Spike TV on April 21. The event will available via pay-per-view in the United Kingdom.)

• White did not rule out at the possibility that the PRIDE brand might benefit from recent talks with HBO and ESPN.