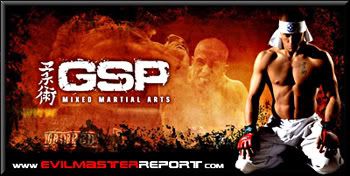 By Thomas Gerbasi

UFC welterweight champion Georges St-Pierre will never fill a reporter's notebook with proclamations of his own greatness, his plans to reign atop the division forever, or how he will tear apart his upcoming opponent with precise strikes just to see him fall.

Frankly, that's a big part of his charm. He's the gentleman battler, the kid from Canada who may be the nicest guy in the world who can knock you out with a kick to the head or twist your limbs to places they were never meant to see.

So when he talks about not looking past his upcoming opponent at UFC 69, Matt Serra, or about focusing on just one fight at a time and not future bouts, it doesn't come off as insincere, the way it might from other athletes. In fact, to hear him tell it, there may be nothing more important in his life than keeping his eye solely on April 7th.

"In my mind, I'm not the champion," said St-Pierre, who won the UFC crown with a second round stoppage of Matt Hughes last November. "I'm a guy who got another chance to win another title. That's how I take this fight. I don't take this fight as myself being the champion and defending my title. I always keep challenging myself."

To some observers, St-Pierre needs to be on his Ps and Qs this weekend; not because of Serra, but because of the presumably inevitable overconfidence he should have in facing a fighter seemingly out of his class. But Serra is as live an underdog as you'll find in this sport - a scrappy New Yorker who is not only a world-renowned ground fighter, but someone who is not afraid to trade blows, something he's done with some of the best in the world over the years. Serra is no pushover, and St-Pierre knows it.

"He's very underrated and a very dangerous fighter," said St-Pierre of Serra. "This fight is probably gonna go five rounds and it's gonna be a war. He's very dangerous with submissions and he's gonna have a strong strategy for me. I have to be well-prepared, otherwise it's gonna be a bad night for me. Nobody has finished him other than Shonie Carter with a spinning backfist. Even BJ Penn fought him over the distance, so it's gonna be a war. It's not gonna be easy."

Again, from most fighters, you could say that's the politically correct answer and a good way to build up the fight. From St-Pierre though, it's a different story, because his words are being backed up by his actions. So even without being able to train with members of the Renzo Gracie Team in New York, he has enlisted a dream team that not only includes his usual training partners in Canada (Victor Vargotski and John Danaher) and Muay Thai ace Kru Phil Nurse in New York, but MMA standouts David Loiseau, Jonathan Goulet, Rashad Evans and Nathan Marquardt.

"I've never been five rounds, but the way I train, I train with the best boxers and the best wrestlers in my country, and I train for a long-distance fight," he admits. "I'd be ready to do ten rounds if I needed to. The reason why I always keep working hard is that you can win the title but you can not win the respect – you earn the respect," he admits. "Right now, I won the title but I didn't earn the respect and I need to earn it. When I do, I'll have to challenge myself with something else."

Most would have to disagree with St-Pierre's assessment that he hasn't earned respect yet. In fact, it wouldn't be out of the realm of possibility to rate him not only at the top of the stacked welterweight division, but as one of the top fighters in the world, pound for pound. And it wasn't just his victory over Hughes that got him such recognition; that fight was just the icing on a cake that had been baking since his pro MMA debut in 2002.

A native of Montreal, St-Pierre made his name on the local scene with a series of wins in Canada's biggest MMA show, UCC (now known as TKO). In January of 2004 he made his UFC debut with a three round decision win over Karo Parisyan, and after a first round TKO of Jay Hieron in the Octagon less than five months later, he was tabbed to face Hughes for the vacant UFC welterweight belt in October of 2004. Hughes would end St-Pierre's year on a sour note with a first round submission win, a fight that left more questions than answers. Sure, St-Pierre was young and talented, but did he have the mental toughness to become a world champion.

Those answers would come soon enough. 2005 saw St-Pierre tear through the division with extreme prejudice as he defeated Dave Strasser and Jason Miller, simply destroyed Frank Trigg, and stopped current UFC lightweight king Sean Sherk. It would be his 2006 fight with BJ Penn that truly showed his progression from talent-rich athlete to true mixed martial artist though, as he rebounded from a horrific first round to win the next two stanzas and gut out a three round decision. All that was left was to beat Hughes, and on November 18th, he accomplished that feat with little effort as he dominated the longtime champion from start to emphatic finish.

But there were no 'I told you so's from St-Pierre to the critics, just tears of joy and the presentation of his new belt to his biggest fan – his mother.

"It was a dream coming true," St-Pierre recalls of that night in Sacramento, California. "My mom helped me so much in the beginning of my career so it was very important for me that she was there for the biggest night of my life. She knew that I made a lot of sacrifices and she told me she was very proud of me."

She has good reason to – she raised a gentleman. She also raised a fighter, one that has suddenly become one of the poster boys for the UFC, and for good reason. But going from relative obscurity to superstar status can take its toll on you if you're not prepared. GSP seems to be coping with his new role as a champion.

"I have more responsibilities as far as advertising stuff and things like that, but I try to stay the same old guy," he admits. "That's very important for me. That's how I was raised by my parents and how I've been raised in the martial arts with my former teacher (Jean Couture)."

That means no trash talk, no forward glances, and no prognostications of future fights like the one on his undercard between top young guns Diego Sanchez and Josh Koscheck.

"I don't know – they're both very good fighters," said St-Pierre when asked for a pick. "I'm just focused on Matt Serra and I'll see what happens after that."

What about a third fight with Matt Hughes?

"One fight at a time."

Is it tough to keep that focus?

He chuckles.

"One fight at a time."

He chuckles again, knowing he's got you.

"I want to keep the same attitude I had when I was fighting Matt Hughes and I think that's what gonna keep me on a straight line."

Looks like we may be in for a long reign.