By: Chris Onzuka
Photos By: Aaron Meyer

An incredible, and some would say "Epic," night of fights took place for Icon Sport's latest event. The new Icon Sport Middleweight Champion, Frank Trigg, was back to defend his belt against the hard hitting slugger and former champ, Robbie Lawler. Both fighters have reinvigorated their careers after gracing the Icon ring. Trigg and Lawler have had success in Pride's venture into Las Vegas and now return to fight for the title that seems to be a blessing and a curse. No Icon Sport middleweight champion has been able successfully defend the belt once they have obtained it.




Trigg displayed great timing and took Lawler down at will in the first round by slipping under punches. Lawler showed a great butterfly guard, which neutralized Trigg on the ground. As the fight went on, Trigg tired and Lawler started landing punches, which bloodied Trigg. By the end of the second round, both fighters were spent and fighting on pure heart. Trigg pressed the action and smothered Lawler with punches, but Lawler showed great take down defense and smiled at Trigg's punch-knee combinations.




Just when it looked like Trigg was going to press forward and win the decision, Lawler reversed Trigg, putting him in the corner and unloaded with vicious hooks that crumbled Trigg to the canvas to re-capture the title. The Icon Sport middleweight title curse continues. Lawler looked in the best shape of his life and appears to have regained the fire that he had early in his career.

Also returning to the ring was the enormously popular, Jason "Mayhem" Miller, also a former Icon champ, he is looking to rebound after his loss to Trigg and get back into title contention. Miller did just that, with his trademark style, the ground technician used his striking skills to dispatch Urbana with a huge punch from the guard that curled his opponent.




Another fighter that added even more depth to the Icon middleweight picture is Charuto Verissimo. After making a successful Icon debut by dominating his opponent, Charuto continued his rise, covering up after Lars Haven unleashed a barrage of punches and taking the fight to the ground and pounding Haven from the mount. With this win, Verissimo looks to be the next one in line for a crack at the title.

Another exciting find and debut is that of Po'ai Suganuma. Suganuma has had a successful run in the Pancrase organization in Japan and has a style reminiscent of an early Falaniko Vitale. Suganuma did not disappoint the crowd by being thoroughly tested by a game and extremely tough Nate Carey. Both fighters battled back and forth for all three rounds with Suganuma pulling out the decision in an exciting fight

Another great match up that ended quickly was two young and exciting fighters vying for the Icon Sport State Lightweight Championship. Harvest has been growing as a fighter by leaps and bounds and Bucholz impressed everyone in his last fight. After a very short feeling out period, Bucholz stepped in with a 1-2 combo that landed sent Harvest to the mat. Bucholz raised his hands in victory, then saw that the referee didn't stop the fight, so he followed up with punches on Harvest to finish him.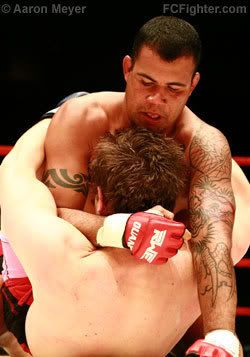 It was a great night of fights with the Lawler-Trigg fight sending the crowd into a deafening roar. The Icon Sport promoters already have a huge event planned for June and hope to build upon the momentum produced by this show. Lastly, I would be remise to say that Mike and I were not honored and humbled to have been selected as the second people (technically second and third) to have been awarded the Icon Achievement Award and to be recognized for our efforts over the years. We all do it for the love of the sport, but it is nice to received a pat on the back every once in a while.