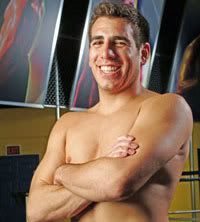 By Kenny "Kenflo" Florian

Last night, I arrived in Las Vegas with my coaching team. I am excited to be that much closer to my fight.

As you guys know, I will be fighting on Ultimate Fight Night 9, which will be held at the Palms Resort and Casino this coming Thursday, April 5th. The fight will be shown live on Spike TV starting at 8pm (ET). I am fighting against Japanese PRIDE and Shooto veteran, Dokonjonosuke Mishima..




I learned greatly from my Lightweight Championship battle against Sean Sherk. Since then I have added some amazing coaches and made many other changes. Now, I am hungrier, wiser and more skilled.

Mishima will be a tough opponent. He will not go down easy. Mishima has a fighting style similar to Sherk. Thus, he will likely try to use his experience and strength to control me.

This fight will demonstrate that I can stifle this type of game plan. I do not fight for the judges' decision. From start to finish, I will smartly and tenuously work to finish Mishima. Over the next few days, I will be mentally preparing for this task. When Thursday night comes, I will be more than ready.

I want to thank my fans and friends for their support and love. Over the last few months, whether at UFC events or other appearances, I met many fans. As always, a special thanks to my hometown fans in Boston.

Each fight in the UFC is an opportunity to compete against the best. This fight will make me a better fighter and martial artist. I am thankful for this day.

"Without knowledge, skill cannot be focused. Without skill, strength cannot be brought to bear and without strength, knowledge may not be applied."
--Alexander the Great's Chief Physician

Stay with the Flo,

KF

(Source)