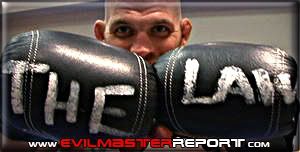 It's not quite David vs. Goliath, but it could be considered a mismatch on paper. Fortunately for Matt Lindland, the No. 1-ranked middleweight mixed martial arts fighter in the world, he'll be live in living color when he steps into the ring - and up two weight classes - to take on the top-ranked heavyweight on the planet, Fedor Emelianenko.

"I think I am a bad match up for anybody in the world," says the "The Law", who plans to come out with guns blazing when he meets the 230-pound Russian Red Devil at the ICE Palace in St. Petersburg on April 14th.

"I'm very aggressive. I get right in my opponent's face and don't let them breathe, and that's what I plan to do to him. I'm not going to give him any time to rest. I'm going to press the pace, and hopefully he makes a mistake and I get him."

With a MMA record of 20 wins - 4 losses - 0 draws and wins over names like Baroni, Lutter, Miletich and Horn, the Portland, Oregon native has very good reasons to be confident. But just how does this 4X4 truck driving, tobacco chewing, country music listening, baseball cap wearing, All-American middleweight plan to handle a heavyweight like Fedor, who is 25-1-0 and outweighs him by almost forty pounds?

"I'm trying to build up as much as I can," admits Lindland. "But I'm not going to stress on getting too heavy. It's not going to be the key to this fight. I think I need to out-move and out-hustle him, and come in in better shape. But it's hard to get into super good shape and keep a lot of weight on. The harder I train, the harder it is to keep the weight on."

The former Greco-Roman wrestler has also revealed his motivation for the fight, which dates back to his silver medal winning performance at the 2000 Olympic Games in Sydney, Australia.

"Russia is one of the strongest nations in the world, and when I wrestled we always wanted to beat the Russians. But in my Olympic finals I lost the gold to a Russian (Mourat Kardanov), so this would be great revenge."

"Matt is very determined," echoes Bodog Entertainment Founder Calvin Ayre. "Anyone who thinks he can't win this fight doesn't know Matt. Most people agree Fedor is one of the best fighters in the world, but Matt is also highly regarded, and I expect he'll show us why on April 14th in Russia."

BodogFight: Fedor Emelianenko vs. Matt Lindland, Clash of the Nations, brought to you by BodogFight and M-1, will be available via satellite to more than 44 million households in the United States of America exclusively on the Dish Network and In Demand, and to more than 3 million households in Canada via Viewers Choice, Shaw, and Bell ExpressVu. Details available on www.BodogFight.com/ppv/.

About Bodog Entertainment
Bodog Entertainment offers a host of entertainment services, including: an international television production division, which produces television series, such as BodogFight (BodogFight.com) and Calvin Ayre Wild Card Poker (Bodog.TV); an international record label (BodogMusic.com); a million-dollar band search competition (BodogBattle.com); a publishing division (with an online magazine, BodogNation.com, and blog, BodogBeat.com); and an events department renowned for producing parties that are stunning, chic and celebrity-filled. Bodog Entertainment Founder Calvin Ayre, who is recognized as a world authority on branding in the digital entertainment industry, was featured on the cover of Forbes magazine's best-selling "Billionaires" issue in March 2006. For more information, contact Media Relations at 1-866-892-3371, or press@bodog.tv . BODOG is a registered trademark of Bodog Entertainment Group.