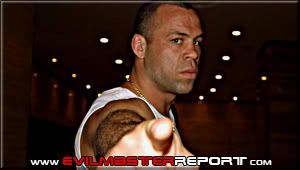 In a very emotional press conference in Japan for Dream Stage Entertainment's final Pride event – the promotion was recently purchased by Frank and Lorenzo Fertitta, the owners of the Ultimate Fighting Championship and World Extreme Cagefighting – DSE president Nobuyuki Sakikabara announced a proposed fight for Wanderlei Silva will not take place.

On just a few hours notice, Pride was able to secure Akira Shoji to take on Gilbert Yvel. A visibly moved Shoji was proud to be able to participate on DSE's final Pride event. Yvel originally was scheduled to face Bazigit Atajev, but he had to withdraw due to an "internal disease."

Sakikabara didn't stop there though. In his final moments as head of Pride, he announced that his final fight card may not yet be finished, "I am still working on surprises for [the] show. We have the official announcement of eight matches, but I am still working on giving you one more or maybe two more fights because that is the last thing that I can give you as the promoter of this Pride. So please look forward to a big surprise."

There has been no word on what or rather who those surprises may be.