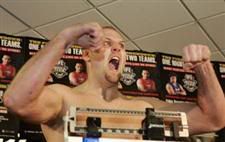 By Ben Fowlkes

At present, the IFL doesn't have individual title-holders in each weight class. There are no championship belts, no undisputed top dogs, at least not until the year-end Grand Prix, when a four-man tournament in each division will solve that problem.

But even without the hardware to put around his waist, there is one IFL fighter who is the consensus choice as the de facto champion in his weight class. He's big and yet agile, his last name means "river of blood", and odds are if you own a TV you've seen at least one clip of him kicking someone in the head.

I refer now, of course, to the Silverbacks' Ben Rothwell.

Not only has Rothwell beaten every other heavyweight the IFL has thrown at him, he's done so in devastating fashion. Only one of his five fights in the IFL has gone out of the first round, and two have ended with single-blow knockouts.

Between Rothwell's highlight reel finishes and his easy-going Midwestern farm stud persona, it's not hard to see why he's been the heavyweight poster boy thus far. Coach Pat Miletich has said repeatedly that he thinks Rothwell is a top heavyweight in any MMA organization, and Miletich is a man who should know.

Until very recently, the Miletich camp had the UFC heavyweight champion in their stable with Tim Sylvia, as well as the UFC welterweight champion in Matt Hughes.

But now it seems as though the IFL's increased exposure has put Rothwell on the cusp of real fame. MMA fans on a national level are starting to take notice of Big Ben, and with a pro record of 21-5, including the nine-fight win streak he's currently riding, he seems to have the skills to be a legitimate contender.

That's why this weekend's bout will be such a crucial one for this rising star. When Rothwell's Silverbacks take to the ring in Moline, Illinois, his opponent will be vaunted grappler Roy Nelson.

Nelson was a late addition to Ken Shamrock's Nevada Lions, but his resume pegs him as a ground fighter with a notable pedigree. Nelson was undefeated until his recent decision loss to Josh Curran in Bodog Fight, though he has yet to face a fighter with Rothwell's range and experience.

"Everyone knows my strengths," Rothwell has said of his plan for the fight. "I'm out to get the knockout. If I don't have to go to the ground, I won't."

It's probable that the ground is exactly where Nelson will look to take this fight, as well he should. Rothwell's striking is highly technical for a heavyweight, and his footwork keeps him out of range of his opponents' takedowns most of the time.

But this fight may be the first time fans get to see Rothwell's grappling ability truly tested. Nelson will look to put him on his back and keep him there, and if Rothwell can withstand that he may silence some of the doubters that criticize him as a one-dimensional fighter.

However, this match will have more than just personal significance attached to it. The Silverbacks desperately need this victory to keep their playoff hopes alive. After their close loss to the Anacondas in February, they can't afford even one more defeat.

According to Rothwell, coach Miletich has been making that point abundantly clear in the team workout sessions.

"Everything completely changed," Rothwell said. "This has been the hardest training I've ever been through in my life"

That may be exactly what Rothwell needs to maintain his current position at the top of the heavyweight heap. As Miletich is fond of telling his fighters, holding on to title is much harder than winning it.

Rothwell is hoping to do both by the end of 2007. Not only is his team a defending champion, but Rothwell is certainly the man to beat in the heavyweight class. That's why fighters like Krzysztof Soszynski are angling for another shot at him, and why Miletich is pushing his boys harder than ever in the gym.

When Rothwell gets in the ring with Nelson on Saturday night, he'll get one more chance to lay an early claim to the heavyweight title that waits at the end of the line.