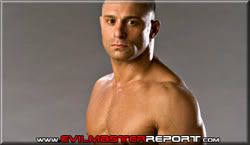 By Steve Sievert

Is it me or does Matt Serra seem like the forgotten man of UFC 69?

The guy earned his spot opposite Georges St-Pierre in the main event by being the last man standing during season four of The Ultimate Fighter. Not only that, the Gracie jiu-jitsu black belt will step into the octagon Saturday night in Houston with a 15-4 record and a reputation for pressing some of the best fighters in the sport.

Would fans rather see St-Pierre versus Matt Hughes or GSP take on Diego Sanchez? Sure, but Serra checked the required boxes to get here and, thus, is deserving of a shot at the welterweight king.

Yet, Serra's place in pre-fight promotions reminds me of being relegated to the kids' table for Thanksgiving dinner. He's even had to fend off flack from UFC President Dana White and commentator Joe Rogan, who haven't been shy in expressing their opinions about what a bad on-paper matchup it is for Serra.

But that's just fine with this down-to-earth, scrappy New Yorker, who will drop a "bro" or a "buddy" on perfect strangers like he's known them for years. He's looking forward to taking the shot before him and dismisses talk of a mismatch against GSP.

"Georges is a phenomenal fighter, and I'd never take anything away from him. I know what this fight looks like to a lot of people - that he's just looking unstoppable, but there's no one who's unstoppable in MMA. There are so many ways to win and lose, you know, someone zigged when they should have zagged and the fight could be over. I'm ready to go, man. I'm ready to bring it."

Serra would do a lot of damage in the welterweight division if he pulled the upset. As we've previously discussed in this forum, UFC's 170-pound class is stacked with several compelling fights-in-the-making - none of which, with all due respect to Matt, involve Serra.

You have to think Serra would like nothing more than to blow up those best-laid plans, and having a belt around his waist probably wouldn't be so bad either.