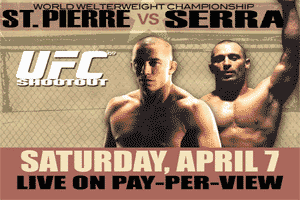 By Brady Crytzer

On Saturday, April 7th the UFC makes its long awaited debut in the Lon Star state when UFC 69: Shootout invades the Toyota Center in Houston, TX. With welterweight phenom Georges "Rush" St. Pierre defending his title against The Ultimate Fighter 4 winner Matt "The Terror" Serra defending his title in the main event, the addition of an all action under card makes this event one of the best in a very long time.

UFC Welterweight Title: Matt "The Terra" Serra vs. Georges "Rush" St. Pierre

Matt Serra: Matt Serra is a dedicated fighter. Not only a warrior himself, Serra has spent much of time training promising youngsters who could one day be world champions themselves. The first American black belt under Renzo Gracie, Serra has been a proven staple of the UFC for the last six years. After losing his UFC debut to Shonie Carter (a loss that would be avenged during the taping of season four of The Ultimate Fighter 4) by a highlight reel spinning backfist KO, Serra proved himself by decisioning the well-rounded Yves Edwards and by outclassing Kelly Dullanty. Standing only 5'6, the then lightweight Serra found himself in a spot of trouble losing a unanimous decision to 155 lb. star BJ Penn and dropping a heartbreaking split decision to Din Thomas. After taking nearly a year off, Serra returned scoring two unanimous decisions over Jeff Curran and Ivan Menjivar. In June of 2004, Matt Serra proved he just wasn't a jiu jitsu whiz by brawling with Karo Parysian for three brutal wins ultimately losing a unanimous decision.

Serra received a second chance when he was selected to battle eight other UFC welterweights for a shot at the 170 lb. title. Serra quickly established himself as not only a team leader but as a dominate fighter when he actively took charge of cornering his teammates and went on to defeat some of the best in the world in Pete Spratt and Shonie Carter. At the Ultimate Fighter Finale Serra outworked and outhustled a very dangerous Chris "Lights Out" Lytle to earn a shot at the title.

Now in the twilight of his career Matt Serra has the chance of a lifetime when he fights Georges "Rush" St. Pierre for the UFC world welterweight championship.

Georges St. Pierre: The future is now. A phrase that is often thrown around in the world of new millennium technologies and has become nothing more than a sales pitch. Georges St. Pierre is the future. After making his UFC debut on the very same show which BJ Penn won his world title, St. Pierre wowed fans around the world with his dominate victory over a very tough Karo Parysian to earn a three-round unanimous decision. Despite being unable to finish his opponent, any and everyone who saw that fight could all agree that "this guy is gonna be good." It was hard to deny that a man that beat fighters like Ivan Menjivar, Thomas "The Wildman" Denny and Pete Spratt, all before even making his UFC debut, would have one of the most promising careers in the history of MMA. After a successful debut, St. Pierre returned in June of 2004 at UFC 48: Payback only to make waves again by brutally defeating newcomer Jay Hieron in a highlight reel first round knockout. St. Pierre was on the fast track to a title shot, but after it was announced the question was raised . . . was it too soon? The fight itself with Hughes was a classic, while it lasted. The young Quebecois gave the champion all he could handle, and in the minds of some viewers, many thought he was winning. But, showing veteran cunning and taking advantage of an opponent with only seven fights, Hughes snapped in a lightening-fast armbar forcing the tap with less than one second left in the round. It was a rookie mistake that most certainly wont be made again. With redemption on his mind, an overjoyed St. Pierre successfully and impressively dismantled newcomer Jason Miller and nasty veteran Frank Trigg. With a title shot rematch on his mind, St. Pierre did the unthinkable by dissecting a returning Sean Sherk in a match that many thought would much closer than it actually turned out to be.In March of 2005, "Rush" went to war with former champion BJ Penn, earning a three round decision. After avenging a loss knocking out welterweight king Matt Hughes, St. Pierre returns as one of the best pure athletes in the world today and could be a major player in the sport of MMA for a very long time.

How They Match Up

Matt Serra is not one to be taken lightly, but make no mistake about it the pressure is on Georges St. Pierre in this fight. "Rush" has seemed so unstoppable as of late and the scary thing is he is still getting better. Matt Serra has a clear jiu jitsu advantage but disadvantages in wrestling, striking and quickness will greatly outweigh that. Look for St. Pierre to dictate the pace of this fight and test the conditioning of the veteran Serra. At 5'6, Serra is not all that much taller than Sean Sherk who St. Pierre picked apart in November of 2005. Look for the conditioning monster from the Great White North to ware down the Long Islander and stop him in the second.